The Collector
October 25, 2019
---
Housing Over Parking in Eureka?
The city is considering plans to replace some parking lots with new housing, and to leave some lots in place but build elevated housing on top. Here at CRTP, our priorities always put housing over parking.
Arcata Affordable Infill Housing Project Approved
At the Arcata Planning Commission meeting on Tuesday, Commissioners approved the Isackson's affordable housing project at 7th & I Streets, just a block south of the Plaza. With limited parking and a number of bike, pedestrian and transit amenities, this may be the first truly non-car-oriented housing project in the area. At the same meeting, Commissioners considered the Creekside Homes mixed senior living/residential subdivision in the Foster Ave area and heard significant concerns from existing residents about how the proposed changes would affect bike and pedestrian safety. In the end, they forwarded the project to the City Council for consideration.
County Taking Comments on Parking Crater Plans
The initial environmental documents for the downtown Eureka parking crater – errr, that is, the "4th Street Property Acquisition and Development Project" – are now available and open for public comment.
Settlement Will Address Road Runoff
One of the many environmental impacts of roads is the runoff that ends up in local waterways, damaging aquatic life. A long-awaited settlement between Humboldt County and Friends of the Eel River will require some road fixes to address runoff concerns in two sensitive watersheds.
Another Crash on Broadway
Everyone's favorite local car-maggedon roadway experiences another collision.
Latest Humboldt Bay Bike Commuters Newsletter Is Out
Find out more at their regular meeting next week.
Rails and Trails
The Timber Heritage Association still wants to save the rails around the Bay.
Weekly Street Story Update: Old Arcata Road
Multiple reports have identified long stretches of Bayside/Old Arcata Road/Samoa Blvd as hazardous areas. Some of these areas are already targeted for safety improvements. Will they make the difference? You can make your Street Story report here.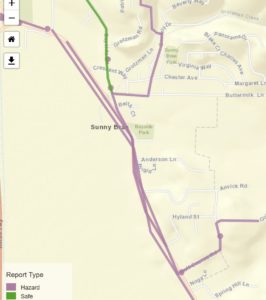 San Joaquin Valley Rail Committee Meets Next Week
What's that have to do with us up here on the North Coast? Well, it turns out that our Amtrak bus connection is under their jurisdiction, and improvements to that service following signing of SB 742 may be up for discussion.
SUVs are Killing Climate Goals…
…and people.
---
The Collector is CRTP's weekly transportation news roundup, published every Friday. We focus on North Coast news, but we also include relevant state, national and international transportation news – plus other items that we just find kind of interesting! To submit items for consideration, email colin@transportationpriorities.org.