The Collector
October 11, 2019
---
Car-Free Streets? It Can Be Done!
San Francisco is moving ahead with a plan to dramatically improve bicycle, pedestrian and transit infrastructure on Market Street – one of the city's busiest – including making some blocks completely car-free. Which reminds us: the Arcata Plaza Improvement Task Force meets again next week to consider recommendations for making the currently car-dominated Plaza area a safer, more environmentally friendly, and more welcoming space. If San Francisco can do it to Market Street…
Five Crashes in One Day: Business as Usual
With the power out, police reported five collisions on Highway 101 in Eureka on Wednesday, a number that's "considered in line with city crime statistics." Yikes. Meanwhile, people struggled to get gas for their cars with no electricity to operate pumps and other equipment. You know who didn't struggle to get gas? People walking and riding their bikes.
Newsom Signs Amtrak Bus Bill
The governor signed SB 742 this week, which allows Amtrak to run buses independently from its train service. Of local interest: Humboldt County residents heading south may soon be able to skip Bay Area congestion by taking the twice-daily Amtrak Thruway Bus from Humboldt and connecting in Santa Rosa to a SMART train south to the Bay. It's still unclear where the transfer would take place, but SMART's North Santa Rosa (Airport) Station is only 1/4 mile from the present bus route.
Weekly Street Story Update: The Friendly City
There have been several reports made from Fortuna since Street Story debuted in Humboldt in June. The intersection of Kenmar Rd, Ross Hill Rd and Business Route 101 seems to be emerging as a particular problem area. You can make your Street Story report here.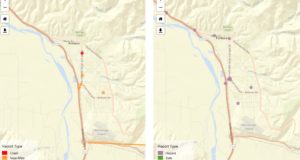 "Cars Are Death Machines. Self-Driving Tech Won't Change That."
Enough said. Read it for yourself.
Could a Successful Climate Lawsuit Herald the End of the Caltrans Freeway-Building Era?
Cross your fingers.
Speaking of Which…
Another report confirms that too much driving is keeping California from meeting its greenhouse gas reduction goals. This is a crisis, people.
---
The Collector is CRTP's weekly transportation news roundup, published every Friday. We focus on North Coast news, but we also include relevant state, national and international transportation news – plus other items that we just find kind of interesting! To submit items for consideration, email colin@transportationpriorities.org.