The Collector
October 18, 2019
---
Newsom Says No to Complete Streets
At the 11th hour, the governor vetoed SB 127, which would have required Caltrans to add bike, pedestrian and transit improvements when they did major maintenance or repair to state highways which function as local roads. Which, of course, many of them do on the North Coast. Newsom repeated previous Caltrans arguments against the bill, namely: (a) We're already doing that, we swear! (b) It would add too much cost to projects. News flash: both of those things can't be true. The fact is that Caltrans often ignores its supposed complete streets policies and is not moving nearly fast enough to retrofit state roads for active transportation – particularly in light of the joint safety and climate crisis facing the state and the globe.
Planning Commission Discusses Rezoning
Last night, the Humboldt County Planning Commission considered changes to the countywide zoning map intended to implement the 2017 General Plan update. CRTP is advocating for more mixed use zoning in McKinleyville. If there's not a critical mass of mixed-use-zoned property, it's unlikely the community will succeed in its goal of creating a walkable, pedestrian-oriented town center.
Unmet Transit Needs Hearings Continue
The annual process of soliciting public input on unmet transit needs in Humboldt County continued this week with hearings at the Board of Supervisors and Humboldt County Association of Governments Board meetings. It's not too late to submit your input! There are hearings next week in Fortuna and Blue Lake and at the Humboldt Transit Authority offices in Eureka, and you can also submit comments in writing. Details here.
Task Force Continues Plaza Deliberations
The Arcata Plaza Improvement Task Force held its monthly meeting this week. The main item on the agenda was a discussion of how to "refine" the rankings of recommendations and implementation options, some of which seemed to not exactly match up. Whether or not the city will eventually pedestrianize any part of the Plaza is one of the key questions. On November 4th, the Task Force meets with the full City Council for a public study session.
Weekly Street Story Update
6th and 7th Streets are emerging as particular problem areas in Street Story reports from Eureka. Just in the short stretch from G to J Street, 5 collisions and 7 near misses have been reported so far. You can make your Street Story report here.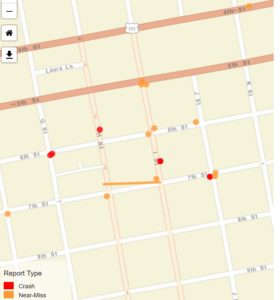 New Proposal for "Regional Express" Transit Service in Bay Area
Advocacy group TransForm released a proposal for an extensive bus rapid transit system in the San Francisco Bay Area this week, filling in gaps in the existing transit system with a high-frequency service relying on bus-only lanes for quick and reliable transportation.
Auto Emissions, Road by Road
The New York Times published an interactive map showing pinpoint emission locations. Highway 101 lights up the North Coast.
---
The Collector is CRTP's weekly transportation news roundup, published every Friday. We focus on North Coast news, but we also include relevant state, national and international transportation news – plus other items that we just find kind of interesting! To submit items for consideration, email colin@transportationpriorities.org.