The Collector
August 2, 2019
---
County to Raze Apartments and Build a Parking Lot
OK, so this block isn't exactly paradise, but it still boggles the mind that the County would pave over affordable housing in the heart of Eureka to put up a parking lot. For the record: the purchase price alone amounts to almost $30,000 per parking space – and that doesn't include demolition, construction and maintenance. But it's not too late! While the sale of the property looks like a done deal, the County doesn't have to waste this prime real estate on car parking. They could develop it with a fun and appropriate mix of public services and amenities along with leased commercial and residential facilities. Maybe you should let your Supervisor know what you think.
Eureka Street Art Block Party Tomorrow
Bike there and take advantage of CRTP's free bike valet service in the Picky Picky Picky parking lot. And don't miss the bicycle tour of murals!
Coastal Commission Meets in Eureka Next Week
The agenda includes several important local transportation topics, including changes to the Eureka-Arcata Highway 101 corridor and the proposed Trinidad Rancheria hotel, which is connected to a proposed new highway interchange nearby.
Eureka Gets Serious About Street Repair Problems
Sort of.
Weekly Street Story Update: Eureka Arterials
A map of hazards reported in the city of Eureka on Street Story is remarkably similar to a map of arterials and collectors – i.e., major streets in the city. The purple lines and dots cover almost every main thoroughfare, and relatively few other areas. That shouldn't come as a surprise, though. It's just another reminder that when we design our transportation systems almost exclusively around cars, the main routes become dangerous for everyone else. You can make your Street Story report here.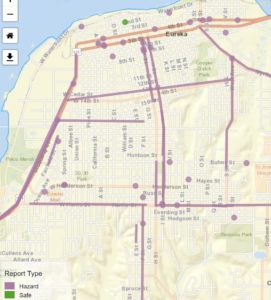 Bill Would Increase Electric Vehicle Rebates in California
Then slowly decrease them, to encourage people to buy EVs now.
Seattle Starts New On-Demand System Linked to Transit Hubs
Will it work in the long run? Will it decrease emissions and make people safer? Questions remain, but quick adoption by local commuters is intriguing.
Will New York Now Get Serious About Bike Safety?
A series of fatal collisions is increasing pressure on Mayor Bill de Blasio.
New Electric Lyft Bikes Catch Fire in San Francisco
Literally.
---
The Collector is CRTP's weekly transportation news roundup, published every Friday. We focus on North Coast news, but we also include relevant state, national and international transportation news – plus other items that we just find kind of interesting! To submit items for consideration, email colin@transportationpriorities.org.