The Collector
July 19, 2019
Note: The Collector will be taking a summer break next week. But don't worry, we'll be back on August 2nd!
---
Richardson Grove Event This Weekend
EPIC is hosting a "potluck rendezvous" at Richardson Grove State Park on Sunday to celebrate the fact that there's still no highway widening in the grove. And you can carpool there!
Fortuna Hosts Annual Celebration of Cars
We know people love their cars. But wouldn't it be nice to celebrate forms of transportation that aren't, you know, killing people, communities and the planet?
New WheelPeople Newsletter Released
The latest Humboldt Bay Bicycle Commuters Association publications highlights the results of this year's Bike Month.
Weekly Street Story Update: Henderson Center
This week, we highlight the Henderson Center area of Eureka. This should be a pedestrian-friendly business district, but a significant number of collisions, near-misses, and hazards have been reported by Street Story users. Meanwhile, Henderson Center merchants are raising money for a trolley. You can make your Street Story report here.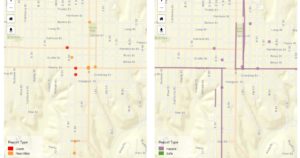 San Francisco Creates a New Car-Free Area
And bike lanes!
Caltrans Says It's Addressing Bike, Pedestrian Fatalities
But its local solution to a pedestrian high-hazard area – 4th Street in Eureka – includes adding an additional car lane at the same time as it upgrades some of the pedestrian infrastructure. That doesn't make much sense to us.
Federal "GREEN Streets" Act Introduced
A bill in the Senate would require states to measure and reduce both vehicle miles traveled and greenhouse gas emissions from transportation. That would mark a monumental shift in the way we spend our transportation dollars.
Start-Ups Try for Zero-Emission Ships & Planes
A Costa Rica-based company is trying to revive sail-and-electric cargo shipping. Meanwhile, several companies are working to develop electric airplanes.
---
The Collector is CRTP's weekly transportation news roundup, published every Friday. We focus on North Coast news, but we also include relevant state, national and international transportation news – plus other items that we just find kind of interesting! To submit items for consideration, email colin@transportationpriorities.org.