The Collector
July 12, 2019
---
County Zoning Gets Contentious…Again
At a hearing this week, the Humboldt County Board of Supervisors debated various proposed zoning text amendments for around 4 hours. The main controversy was over plans to place some limitations on where homes can be built on designated timber and agricultural lands – proposals which had some realtors and property rights advocates threatening lawsuits. Perhaps surprisingly, proposals to lower parking requirements in mixed-use zones appeared significantly less controversial. Still, the legal threats killed any chance of reasonable action by the Supes at this meeting, and they continued the hearing to August 20th.
One Step Closer to a Pedestrian-Friendly Plaza?
At a special meeting of the City of Arcata's Plaza Improvement Task Force this week, members confirmed that a number of proposals for improving the Plaza's pedestrian design – including those brought forward by CRTP and others almost two years ago – will be officially considered by the Task Force in the coming months. Also at the meeting, a business owner on the 8th St side of the Plaza announced that there was support from a majority of business owners on that block for pedestrianizing it to allow the development of outdoor dining and parklets!
Ride the Bus for Free in Arcata This Month!
What could be better than free public transit?
Are All Those Pickups Really Necessary?
A local letter-writer wonders. Meanwhile, another writer reports a dangerous intersection for seniors.
Weekly Street Story Update
The total number of Street Story reports in Humboldt County is now almost 300. One intriguing trend which is emerging is that almost half of the reported hazards are identified as "multiple modes." In other words, people are reporting areas that they think are dangerous not just for walking, or biking, or driving, but potentially for all of these types of transportation. You can make your Street Story report here.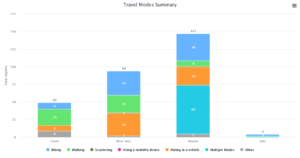 New Residential Development Under Review in Arcata
Danco's Creek Side Homes project includes a large assisted living facility for seniors as well as some single-family homes with accessory dwelling units. It also includes some street and trail improvements. Here are CRTP, we're still digesting the Draft Environmental Impact Report which was recently released. Comments are due in August.
Climate Crisis Threatens Local Transportation Infrastructure
A new report confirms what we've known for some time – and the need to act gets more urgent every day.
Harbor District Projecting Debt
Apparently roads aren't the only transportation infrastructure we can't afford to maintain.
Eureka Focuses on Multi-Family Housing
Development Director Rob Holmlund accurately points out that there's more than enough low-density single-family housing in other parts of the county.
State Assembly Transportation Committee Has a Busy Week
Among the bills the Committee approved this week: SB 127, the Caltrans complete streets bill; SB 356, which lays out next steps for the Great Redwood Trail vision; and SB 742, which could allow Amtrak to offer bus service without requiring an associated trail ticket.
Federal Complete Streets Bill Introduced
You might think a common-sense measure like this would have an easy road to passage. But if you've paid any attention to Congress over the last decade or so, you probably aren't holding your breath.
Uncle Sam Says: Drive Your Car!
A fascinating look at the many ways in which our laws enforce a culture of car ownership and driving.
---
The Collector is CRTP's weekly transportation news roundup, published every Friday. We focus on North Coast news, but we also include relevant state, national and international transportation news – plus other items that we just find kind of interesting! To submit items for consideration, email colin@transportationpriorities.org.