The Collector
July 5, 2019
---
A New Spike in Fatal Collisions
As the article points out, this latest crash means six people have died in less than two weeks on Humboldt County roads. We can no longer view this as an acceptable cost of our way of life; we need to stop building our communities around moving heavy vehicles long distances at high speeds.
Complete Streets Bill Amended
SB 127 has faced stiff opposition from some lawmakers and interest groups. Don't ask us to explain why anyone would oppose common-sense measures like restricting the use of state highway maintenance and repair funds for capacity-increasing projects, or prioritizing the safety of the road's most vulnerable users. But apparently some people do. The bill's authors have been forced to remove some of its more interesting and groundbreaking provisions, but it would still move bike and pedestrian infrastructure much farther up Caltrans' list of priorities. Will the amended bill now pass? Your call or email might make the difference.
Weekly Street Story Update
16 more reports from Humboldt County were made on the Street Story platform in the last week. Today, we highlight an area which has been reported as a hazard seven different times already: the intersections of Sunset Ave with Highway 101 ramps and LK Wood Blvd in Arcata. These reports underline the fact that many have long considered this the most dangerous area in Arcata for bicyclists and pedestrians. You can make your Street Story reports here.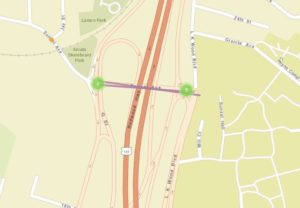 Redwood Coast Energy Authority Hiring a New Transportation Specialist
Fired up about sustainable transportation in Humboldt? Think you've got what it takes to make a career of it?
Oakland Makes e-Scooters Official
Rental companies get permits for the first time.
What's the Impact of Self-Driving Cars on Disadvantaged Communities?
That will depend on how we regulate them, according to a new report from the Union of Concerned Scientists.
Electric Cars Aren't Enough
A report from the UK concludes the same thing that our own California Air Resources Board has long recognized: Electrification alone won't solve our transportation problems. We also just need to drive less.
---
The Collector is CRTP's weekly transportation news roundup, published every Friday. We focus on North Coast news, but we also include relevant state, national and international transportation news – plus other items that we just find kind of interesting! To submit items for consideration, email colin@transportationpriorities.org.