The Collector
June 28, 2019
---
Complete Streets Bill Heads to Assembly
SB 127 has passed the state Senate, but the Assembly is an even bigger challenge. It's currently scheduled for a hearing in the Transportation Committee, and sponsors are calling on supporters to contact their Assemblymembers.
More Bad News for Caltrans Richardson Grove Project
In a scathing opinion, a federal judge has ordered Caltrans to complete a full Environmental Impact Statement – a long and time-consuming process – "if it still wishes to proceed with the road project through Richardson Grove State Park."
Arcata Planning Commission Approves Infill Project
The Isackson's Affordable Housing Project and associated active transportation improvements were approved this week. Some neighbors offered objections to the project, while CRTP had a different take.
Weekly Street Story Update
As of this writing, a total of 272 reports have been made from Humboldt County on the Street Story platform. Speeding, failure to yield, and poor or missing bike facilities are the top reported causes of crashes, near misses, and hazardous areas. Today, we offer a close-up of one intersection that seems to be emerging as particularly problematic: 4th & O St in Eureka. Four crashes and three near misses have been reported here already. This is clearly an intersection that needs some work.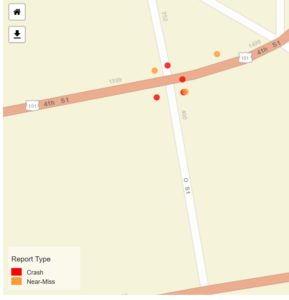 $3.8 Million for Parking
Why would state law require millions of dollars of state university money be spent on parking – and not student housing, faculty salaries, or any number of other important needs?
Great Redwood Trail Progress Continues
Meanwhile, funding for the dissolution of the North Coast Railroad Authority and planning for the new trail was included in the state budget just signed by Governor Newsome.
New York, Denver, Boston Top Walkable Metro Areas
Washington, DC, the San Francisco Bay Area, and Chicago round out the top six in the new report.
---
The Collector is CRTP's weekly transportation news roundup, published every Friday. We focus on North Coast news, but we also include relevant state, national and international transportation news – plus other items that we just find kind of interesting! To submit items for consideration, email colin@transportationpriorities.org.