The Collector
November 1, 2019
---
Special Meeting About Arcata Plaza Next Week
The City Council will hold a "study session" with the Plaza Improvement Task Force on Monday. This is one of the last and best chances for the public to ask for a more pedestrian-friendly Plaza before official recommendations come to the Council in the next month or two.
Big Names in Del Norte for Transportation Commission Meeting
The California Transportation Commission will be holding a meeting in Crescent City next Wednesday. Participants will include Congressman Jared Huffman, State Senator Mike McGuire, and Assemblymember Jim Wood. There's a morning tour of Last Chance Grade and parts of Highway 199, a 2pm town hall, and a "community meeting" about Last Chance Grade at 6pm.
Humboldt Mobility-on-Demand Meetings Next Week
Special public meetings to provide updates and get public input on the ongoing development of a local Mobility-on-Demand Strategic Plan will be held on Thursday in Eureka.
Eureka City Council to Consider Rolling Back Parking Restrictions
Some local businesses have complained about the two-hour restrictions in parts of downtown. The Council may remove them. Making free public car storage even easier should definitely be at the top of our local government agenda, right?
Public Workshops on County Law Mother-in-Law Unit Ordinance
Humboldt County's proposed law on "accessory dwelling units" (ADUs) is the subject of several upcoming public workshops. ADUs are one of the easiest ways to add density to existing single-family neighborhoods – and thus improve walkability, bikability, and transit.
Weekly Street Story Update: Crashes & Near Misses
Research suggests that a location where near misses are reported is more likely to be the site of a future crash. Here, we highlight a relatively minor intersection in Arcata – LK Wood Blvd and Hiddencreek Rd – where two near misses have been reported in Street Story, but no crashes have yet been reported (nor are there any in the state's official collision data). This is an example of the importance of Street Story reports – in places like this, they could allow officials to intervene with safety improvements before a crash occurs. You can make your Street Story report here.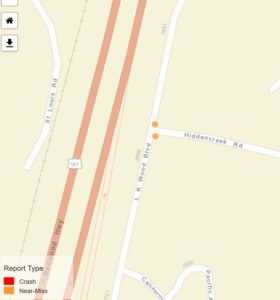 Bicyclist and Pedestrian Deaths Increase Again
Overall traffic fatalities are down nationally, but the most vulnerable road users are hit and killed at alarming rates. Many officials continue to blame the victims.
Civility, Inclusiveness and Other Good Reasons to Walk
Walking: it's not just for exercise and greenhouse gas reduction! Plus, walkable neighborhoods increase economic mobility for kids!
Auto Industry Divided Over Fuel Economy Rules
The Trump administration is trying to rescind California's long-established authority to enforce stricter fuel economy standards than the federal government. While some big automakers are supporting California in the fight, another group just declared support for Trump.
---
The Collector is CRTP's weekly transportation news roundup, published every Friday. We focus on North Coast news, but we also include relevant state, national and international transportation news – plus other items that we just find kind of interesting! To submit items for consideration, email colin@transportationpriorities.org.