The Collector



February 12, 2021
---
Take the 2021 Transportation Attitudes Survey!
If you haven't yet taken CRTP's new survey, please do it today. It takes less than 10 minutes and gives us good information that will really help with our future advocacy. Even better – forward this to your friends and family and encourage them to take it too! A Spanish-language version of the survey can be found here.
Arcata Committee to Discuss Converting G & H Streets to One Lane
Taking away a vehicle lane and using that extra space for a protected bike lane or wider sidewalks would be a major improvement in Arcata's circulation system. Also on Tuesday's agenda: pedestrian-scale lighting, implementation of CRTP's "Elephants in the Road" report, and more.
Eureka Committee Struggles with Affordable-Housing-on-Parking-Lots Project
Neighbors and committee members worried about the size of the building at Sunny & Myrtle Avenue, and about "not enough" parking spaces at all the sites. CRTP pointed out that: (a) Eureka desperately needs affordable housing, and there aren't many good places to put it; (b) Less parking encourages less driving and car ownership, so fewer parking spaces doesn't necessarily mean cars spilling out onto the streets; (c) parking and building size aren't even under the purview of the Design Review Committee. Nevertheless, the committee asked non-profit Linc Housing to come back with new plans for the Sunny & Myrtle building at a special meeting next Friday (2/19), while giving conditional approval to the buildings at 8th & G Streets and 6th & M Streets.
Arcata Annie & Mary Trail Project Recommended for State Funding
The project includes a separated multi-use trail from Sunset Avenue to Pump Station Park 1 on West End Road as well as some associated bike/pedestrian improvements. Unfortunately, other local projects – including Eureka's Bay-to-Zoo Trail and C Street Bike Boulevard – were not recommended for funding through the state's Active Transportation Program. Only about 11% of applications were recommended for funding statewide.
Rosewood Residents Call for Support for Measure Z Application
Humboldt County Public Works is applying for funding for a traffic signal at F & Oak Streets. CRTP supports the application. We think it's important for the Measure Z committee to acknowledge that traffic safety is one of the most important components of local public safety, and therefore a legitimate use of Measure Z funds.
Great Redwood Trail Town Hall Next Week
State Senator Mike McGuire, who won CRTP's 2018 Responsible Transportation Champion award for his work on the Great Redwood Trail, is holding a virtual town hall next Thursday to provide project updates to his constituents.
---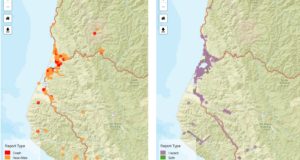 Reminder: Make Your Street Story Reports
724 reports (and counting) have been made in Humboldt County so far. If you see or experience a hazard, near-miss or collision on the street, make your Street Story report here. CRTP uses reports to advocate for change, and local agencies use them to apply for grants and prioritize improvements. Your reports are important!
---
Fuel Efficiency Improvements are Critical for Tackling Greenhouse Gas Emissions
While much of the focus is on vehicle electrification, improving fuel efficiency might be just as important in the short term. Somebody needs to tell GM.
People Aren't Heading to the Suburbs in Large Numbers
They're just moving to different cities, mostly because they're priced out of housing in places like New York and San Francisco. The high prices for walkable neighborhoods, meanwhile, are artificially propped up by outdated zoning codes.
State May Regulate Toxic Tires
Another reminder that tailpipe emissions aren't the only source of pollution from cars and trucks.
---
The Collector is CRTP's weekly transportation news roundup, published every Friday. We focus on North Coast news, but we also include relevant state, national and international transportation news – plus other items that we just find kind of interesting! To submit items for consideration, email colin@transportationpriorities.org.