The Collector



February 19, 2021
---
Don't Forget to Take Our Survey
And ask your friends and family to take it too! The Spanish-language version is here.
Another Tragedy on Highway 101 in Eureka
After issuing an initial statement (seemingly based solely on the driver's account) that suggested the victim was to blame, the Eureka Police Department later reviewed surveillance camera footage that revealed the pedestrian was actually in the middle of a marked crosswalk when the driver hit him. As of the latest report, the victim is in critical condition.
Eureka Broadway Corridor Plan Approved
The Humboldt County Association of Governments approved the plan on Thursday. See CRTP's latest comments here, several of which were addressed in the final Plan. Our primary focus continues to be on significant near-term improvements to address the bike and pedestrian safety crisis on Broadway.
Housing Project Approved in Eureka
The final portion of the affordable-housing-on-parking-lots project was approved by the city's Design Review Committee this morning. CRTP strongly supports the project and is working with Linc Housing to ensure that it includes strong pedestrian, biking and transit amenities.
Railroad Authority Approves Railbanking for Great Redwood Trail
It's a significant step toward the vision of an immense trail system stretching from San Francisco Bay to Humboldt Bay.
More Slides at Last Chance Grade
The perennially challenging section of Highway 101 suffered multiple closures this week, and Highway 96 was closed by a slide at the end of the week as well.
Eureka Street Tree Planting Set for Saturday
Notably, from our perspective, street trees are a proven traffic-calming measure.
---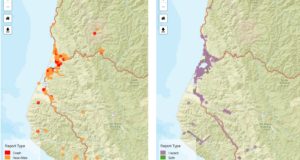 Reminder: Make Your Street Story Reports
727 reports (and counting) have been made in Humboldt County so far. If you see or experience a hazard, near-miss or collision on the street, make your Street Story report here. CRTP uses reports to advocate for change, and local agencies use them to apply for grants and prioritize improvements. Your reports are important!
---
Planners Routinely Underestimate New Driving from Road Expansions
The experts weighed in, and they're not impressed.
More Women Die in Car Crashes
A new study says it's because men tend to drive bigger, more dangerous, more "macho" vehicles. Planners often fail to account for gender differences in transportation, including the differences in comfort and safety felt by female bicyclists and pedestrians. Unfortunately, toxic masculinity is alive and well in the world of transportation.
New Federal Bills Would Support Bikes, E-Bikes
Will bike commuters get tax breaks the way car commuters do?
Electric Cars Are Still Cars
Another humdinger of a column by Farhad Manjoo points out the flaws in America's dream of solving all our transportation problems with electric vehicles.
---
The Collector is CRTP's weekly transportation news roundup, published every Friday. We focus on North Coast news, but we also include relevant state, national and international transportation news – plus other items that we just find kind of interesting! To submit items for consideration, email colin@transportationpriorities.org.