The Collector



February 26, 2021
---
Del Norte Regional Transportation Plan Up for Tuesday Adoption
Several significant improvements were made to the draft plan in response to comments from CRTP and allies. However, the plan still assumes zero funding for active transportation, projects increasing levels of driving, and calls for wider roads for trucks. So you might say we have concerns.
Active Transportation Emerges as a Theme in Arcata Visioning Session
Thursday's public meeting, the second in a series meant to develop a community vision in advance of a General Plan update and other changes, included lots of calls for better bike and pedestrian infrastructure to go along with denser development. Another important theme was ensuring that these kinds of improvements benefit Valley West, not just the wealthier areas closer to downtown. You can provide your input on the City's vision through this survey.
New Traffic Signal and Pedestrian Improvements in Eureka
Pedestrian safety advocates have been asking for a signal at 4th and L Streets for years. On Monday, the lights will finally go on. Then on Tuesday, the City Council is scheduled to approve a plan for improving 35 crosswalk locations throughout the city.
Most Humboldt Households Can't Afford to Buy a Home
The urgency of well-designed, affordable infill development increases as home prices rise.
Don't Forget to Take Our Survey
Join the 110+ people who have taken our 2021 Transportation Attitudes survey, and help spread the word! The Spanish-language version is here.
Committee to Consider Bike & Pedestrian Projects, Transportation Goals
Next Thursday, the Humboldt County Association of Governments Technical Advisory Committee will weigh in on funding requests for bike and pedestrian projects in Fortuna, Arcata and the unincorporated county. The committee will also discuss changing the region's overall transportation goal in the upcoming Regional Transportation Plan update.
Another Car-Culture Restaurant Opens on Broadway
It's hard to square this kind of development with the multimodal vision for the corridor that local residents and officials say they want.
Emergency Funding Approved for Last Chance Grade
The money is needed, to be sure. We just wish Caltrans would act with this kind of speed to approve funding for other urgent needs, like addressing the safety crisis on Broadway.
---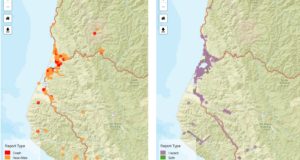 La versión en línea de Street Story ahora está disponible en inglés y español.
If you are more comfortable filling out a form in Spanish or know people who are, there's a new Spanish-language version of Street Story for you! Of course, the English-language version is still available here. CRTP uses reports to advocate for change, and local agencies use them to apply for grants and prioritize improvements. Your reports are important!
---
"Black Voices in Urbanism, Mobility and the Walkable Community Movement"
Still wondering what racism has to do with transportation planning? Check out this video from America Walks.
The Reason You're Not Getting That Stop Sign
Or traffic light, or crosswalk, or… The Manual on Uniform Traffic Control Devices tells transportation engineers when they should implement improvements and how. It's notoriously car-centric, and it's finally getting an upgrade. Will it be enough?
Two New Pieces of Transportation Legislation to Watch
At the state level, CalBike is sponsoring a bill to provide grants for purchasing e-bikes. At the federal level, the Complete Streets Act has been reintroduced.
Is California Miscounting Emissions Reductions from Transportation Programs?
An audit of the California Air Resources Board suggests that we might be seriously overestimating emissions reductions from programs like clean car rebates.
Federal Stimulus Bill Includes $30 Billion for Transit Operations
And a bunch more for big transit capital projects in the San Francisco Bay Area.
---
The Collector is CRTP's weekly transportation news roundup, published every Friday. We focus on North Coast news, but we also include relevant state, national and international transportation news – plus other items that we just find kind of interesting! To submit items for consideration, email colin@transportationpriorities.org.