The Collector



February 5, 2021
---
Eureka Council to Conduct "Strategic Visioning" This Afternoon
Will traffic safety and mode shift be part of their vision?
Thursday Was Transit Equity Day
Rosa Parks, Martin Luther King, Jr., and other leaders recognized that public transit is a civil rights issue.
Linc Housing Project Goes Before Committee Next Week
A vote of Eureka's Design Review Committee is the only discretionary approval the project needs. CRTP strongly supports the plan to build affordable housing on city-owned parking lots. And we continue to work to ensure that the plans maximize benefits and incentives for walking, biking and transit.
Richardson Grove Appeal Filed
The long legal battle over the highway expansion project seems far from over.
Another High-Speed Chase
These kinds of chases are notorious for the serious and often deadly crashes that they frequently cause. Luckily, in this case, the crash apparently did not result in serious injury.
---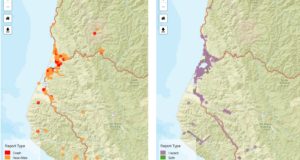 Reminder: Make Your Street Story Reports
723 reports (and counting) have been made in Humboldt County so far. If you see or experience a hazard, near-miss or collision on the street, make your Street Story report here. CRTP uses reports to advocate for change, and local agencies use them to apply for grants and prioritize improvements. Your reports are important!
---
CalBike Calls for More Federal Bike & Pedestrian Funding
Congress will soon be considering another 5-year transportation funding bill. Will non-car modes of transportation get more than the usual pittance?
Millenials Love Transit
You can't blame them for everything.
A Year of Deaths on the Road
Outside magazine tracked US bicyclist deaths in 2020 and analyzed the data. The results are striking and tragic, but may not be surprising to readers of The Collector.
---
The Collector is CRTP's weekly transportation news roundup, published every Friday. We focus on North Coast news, but we also include relevant state, national and international transportation news – plus other items that we just find kind of interesting! To submit items for consideration, email colin@transportationpriorities.org.