The Collector



January 29, 2021
---
How Can Arcata Build More Housing – and Keep It Affordable?
By removing density restrictions and parking requirements for new development, according to a new draft study released by the city. We fully support these recommended measures. And we note that public input to the study shows that walkability and bikeability are among the top desires local residents have for their future housing.
Committee to Review Greenhouse Gas, Driving Reduction Targets
Thanks to advocacy from CRTP and others, and the hard work of HCAOG staff, Humboldt County's upcoming Regional Transportation Plan update will be the first to include specific targets for reducing driving and greenhouse gas emissions from transportation, as well as increasing other modes of transportation. The draft targets will be reviewed next week by HCAOG's Technical Advisory Committee.
Trinidad Worried About Potential Water Pipeline Inducing Sprawl
Sprawl = more driving = climate chaos and more deaths on the road.
Learn More About Plans for the Little River Trail
The Trinidad Coastal Land Trust and Redwood Community Action Agency are currently developing preliminary designs and environmental documentation for the Little River Trail, which will connect McKinleyville with Westhaven and Trinidad. They're hosting small-group walking tours of the area where the trail will be built on February 13th. You can also give your input on the trail plans by taking an online survey.
Old Arcata Road Project Public Comment Period
The environmental documents are available for review and comments now. CRTP supports this project, which would improve bike and pedestrian infrastructure. But we are concerned about the proposed roundabout, which like all roundabouts could be dangerous for pedestrians with vision impairments to navigate.
Humboldt County Residents Are Staying Home More
So no one should be bothered that Eureka is enforcing parking rules again, right?
---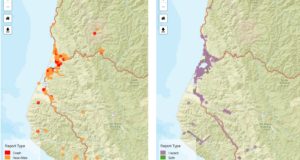 Reminder: Make Your Street Story Reports
720 reports (and counting) have been made in Humboldt County so far. If you see or experience a hazard, near-miss or collision on the street, make your Street Story report here. CRTP uses reports to advocate for change, and local agencies use them to apply for grants and prioritize improvements. Your reports are important!
---
Berkeley Eliminates Minimum Parking Requirements…
It's just the latest city to take this common-sense step.
…Because More Parking Means More Driving
And less walking, biking, and transit use. These fairly obvious conclusions are supported by a new academic study with an unusually rigorous methodology.
CalBike Continues the Campaign for E-Bike Subsidies
E-bikes could be a game-changer for mode shift in rural areas on the North Coast.
GM to Make Only Zero-Emission Vehicles by 2035
That's the same target year that California recently announced for requiring that only zero-emission vehicles be sold. Coincidence? We doubt it.
---
The Collector is CRTP's weekly transportation news roundup, published every Friday. We focus on North Coast news, but we also include relevant state, national and international transportation news – plus other items that we just find kind of interesting! To submit items for consideration, email colin@transportationpriorities.org.