The Collector
September 25, 2020
---
Arcata City Council Candidate Forum Tonight
CRTP and sixteen other local groups are hosting three forums for candidates for local office. The second forum, for Arcata City Council candidates, will be held tonight (Friday, 9/25) at 6 pm. You can watch live via Access Humboldt, including on their YouTube channel. Last Friday's Eureka City Council candidates forum is available for viewing here. Next Friday at the same time will be the forum for McKinleyville and Humboldt Community Services Districts candidates (Friday, 10/2).
Person Injured in Vehicular Attack at Protest
There were several documented vehicular attacks on people on foot during protests for racial justice in Eureka and McKinleyville earlier this summer. Luckily, no one was seriously injured. But the drivers have faced little or no consequences for their actions – the only legal consequence to date has been charges of reckless driving, a misdemeanor, against one driver – and now another attack has resulted in what appears to be a significant (although thankfully not life-threatening) injury of a Eureka protester. Read CRTP's statement on these attacks here.
Slow the Fstreet Down!
Residents along south F Street in Eureka continue their campaign for traffic calming.
Highway 36 Threatened by Fire
Check out our recent report which calls for, among many other things, realistic and comprehensive planning for the impacts of increasingly frequent and severe wildfires on the local transportation system. And be safe out there.
---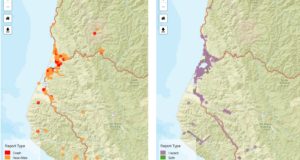 Reminder: Make Your Street Story Reports
683 reports (and counting) have been made in Humboldt County so far. If you see or experience a hazard, near-miss or collision on the street, make your Street Story report here. CRTP uses reports to advocate for change, and local agencies use them to apply for grants and prioritize improvements. Your reports are important!
---
Why Are More Pedestrians Dying?
And why are certain groups disproportionately impacted? These questions are tackled in this article, based on a new book. You can also hear from the book's author in this recorded webinar.
Rate of Traffic Deaths Is Really High in 2020
The most likely cause: speeding.
CalBike Statement on New Clean Transportation Executive Order
Governor Newsom's order focuses a lot on electric cars and gives other modes of transportation short shrift.
Lyft Proposes Street Transformations for Bikes, Pedestrians and Transit
Hey, isn't this a company with a car-based business model? What's going on here?
American Heart Association Says to Redesign Communities for Active Transportation
It's not just good for the climate, it's also good for your health!
---
The Collector is CRTP's weekly transportation news roundup, published every Friday. We focus on North Coast news, but we also include relevant state, national and international transportation news – plus other items that we just find kind of interesting! To submit items for consideration, email colin@transportationpriorities.org.