The Collector
September 18, 2020
---
Eureka City Council Candidate Forum Tonight
CRTP and sixteen other local groups are hosting three forums in the coming weeks for candidates for local office. The first one, which is for Eureka City Council candidates, is tonight (Friday, 9/18) at 6 pm. You can watch live via Access Humboldt, including on their YouTube channel. Next Friday at the same time will be the forum for Arcata City Council candidates, and the week after that will be the forum for McKinleyville and Humboldt Community Services Districts candidates (Friday, 10/2).
Humboldt Residents Still Traveling Less
Data released by the U.S. Bureau of Transportation Statistics show that local residents are taking far fewer trips than they did before the pandemic, especially fewer long-distance trips. And while the Times-Standard emphasizes that medium-distance trips are up, perhaps more interesting is the fact that the large majority of trips are under 3 miles and thus are or could be taken by foot or by bike (the data don't identify transportation mode).
"Kidical Mass" Rides Start in McKinleyville
A new tradition is starting in McKinleyville: "critical mass"-style bike rides focused on kids and families! Two rides have already happened, with lots of kids and their adults helping to reclaim the road. Join the rides every Thursday starting from Roger's Market at 3:30 pm.
Driving Fires
As California burns and some locals are forced to evacuate their homes, it's worth remembering that transportation – mainly personal driving – is responsible for most of the local greenhouse gas emissions that contribute to the changing climate helping to fuel these fires. Ironically, and sadly, we continue to allow new homes to be built in remote fire-prone areas, which results both in more driving and more fire danger.
Fires Driving Us
Fires close roads and prevent people from accessing large areas without special permission. CRTP's recent report argues that as these events become more common, local governments must develop comprehensive and realistic plans for dealing with the impacts of fire on transportation systems.
Billboard Debates Continue
The Board of Supervisors this week allowed a fallen billboard to be rebuilt…temporarily. Billboards are intended to attract the attention of drivers on the highway. So a central but often unspoken question in the decades-long billboard debates is what role private interests should be able to play in influencing the behavior of people traveling in the public right-of-way.
HCAOG Board Adopts Mobility-on-Demand Plan
At its meeting yesterday, the Humboldt County Association of Governments Board of Directors adopted a final plan to address local mobility-on-demand. The final document calls for pilot projects including replacing some low-ridership Redwood Transit Service bus detours with on-demand service and expanding local bike-share programs. You can read our previous comments on the plan here. At the same meeting, the Board added Eureka Mayor Susan Seaman to an ad hoc committee charged with considering specific climate-related targets for the upcoming Regional Transportation Plan update.
---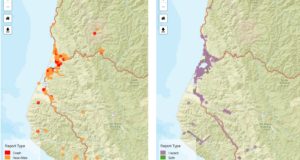 Reminder: Make Your Street Story Reports
683 reports (and counting) have been made in Humboldt County so far. If you see or experience a hazard, near-miss or collision on the street, make your Street Story report here. CRTP uses reports to advocate for change, and local agencies use them to apply for grants and prioritize improvements. Your reports are important!
---
Transportation Commission to Consider "Quick Build" Projects
The California Transportation Commission will for the first time be awarding funding for several "quick build" active transportation projects around the state. Quick build projects use low-cost materials and construction techniques to rapidly transform infrastructure. They are rising in popularity as a response to the long timelines for planning and building most traditional projects, which can leave unsafe conditions for pedestrians and bicyclists in place for years after they are identified.
Fighting the "Diesel Death Zone"
Low-income communities around the Ports of Los Angeles and Long Beach have long suffered from terrible air quality resulting from high levels of truck traffic. Poor health and premature deaths are the well-documented results. Local residents and advocates have filed a new lawsuit against the City of Los Angeles demanding changes.
Bike Shops Face Pandemic Challenges
A CalBike webinar highlights problems and solutions.
An Ikea Store with No Parking?
In a dramatic break with its history of car-oriented, big box stores, the furniture company plans a new store in Vienna with no on-site parking. The store will cater to customers arriving by public transit, and will deliver large items instead of expecting customers to take them home by car.
---
The Collector is CRTP's weekly transportation news roundup, published every Friday. We focus on North Coast news, but we also include relevant state, national and international transportation news – plus other items that we just find kind of interesting! To submit items for consideration, email colin@transportationpriorities.org.