The Collector
September 11, 2020
---
CRTP Joins Allies to Host Local Candidates Forums
CRTP and sixteen other local groups are hosting three candidate forums in the coming weeks – one for Eureka City Council candidates (Friday, 9/18), one for Arcata City Council candidates (Friday, 9/25), and one for McKinleyville and Humboldt Community Services Districts candidates (Friday, 10/2). Tune in to see how candidates answer questions about transportation as well as many other important social and environmental topics.
Eureka City Council to Vote on Parklet & Outdoor Dining Grant Program
Next Tuesday, the Council will consider whether to approve providing grants to local businesses (from federal CARES Act funding) to expand sidewalk and parking lot operations, establish temporary parklets, and possibly close a street or two for outdoor food courts. This is the kind of thing we've advocated for since the pandemic started – as long as they leave plenty of room on the sidewalks for pedestrians! Also on Tuesday's agenda is a report on a new neighborhood mini-grant program, which could be used for items including "median improvements" and "sidewalk planter boxes."
Caltrans Changes Highway 36 Plans to Avoid Old-Growth Redwood
It's a markedly different reaction than the agency had many years ago when environmentalists objected to impacts on redwoods from the Richardson Grove highway expansion project.
Learn About CRTP's New White Paper on the EcoNews Report
You can also read the whole thing here.
New Bay Trail Documents Released
Humboldt County has released new engineering plans and a more detailed report on the final segment of the Humboldt Bay Trail. This is a major milestone in progress toward completion of the trail, which is still expected to be finished late next year.
HCAOG Board to Consider Mobility-on-Demand, Climate
Next Thursday, the Humboldt County Association of Governments will likely adopt a final mobility-on-demand report, which lays out ideas for implementing new responsive transportation systems in Humboldt. See some of our previous coverage in this edition of The Collector. The Board will also consider appointing new members to its new ad hoc committee tasked with incorporating specific climate-related targets into next year's Regional Transportation Plan update. Both items are on the consent agenda.
New Major Employer Coming
Nordic Aquafarms is promising to hire 150 people for its planned operation on the Samoa Peninsula. This is an area that's not served by transit and lacks good bicycle and pedestrian connectivity to major population centers. The company has made a big deal of the purported sustainability of its operations. But will they consider how all those employees are going to get to work?
---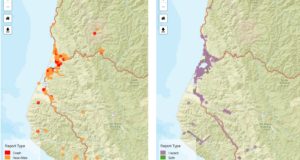 Reminder: Make Your Street Story Reports
675 reports (and counting) have been made in Humboldt County so far. If you see or experience a hazard, near-miss or collision on the street, make your Street Story report here. CRTP uses reports to advocate for change, and local agencies use them to apply for grants and prioritize improvements. Your reports are important!
---
County Compiles Rules on Speeding, Parking and More
Check out the new online list of resources and give them feedback!
State Issues Annual Hydrogen Fuel Cell Vehicle Report
The attention is mostly on electric vehicles these days, but some new hydrogen fueling stations continue to be built in parts of the state.
Northeastern States Will Give Updates on Reducing Transportation Emissions
A coalition of northeastern states which joined together to tackle greenhouse gas emissions from transportation is holding two webinars this month to give updates on their progress.
---
The Collector is CRTP's weekly transportation news roundup, published every Friday. We focus on North Coast news, but we also include relevant state, national and international transportation news – plus other items that we just find kind of interesting! To submit items for consideration, email colin@transportationpriorities.org.