The Collector
September 4, 2020
---
HCAOG Seeks New Executive Director
Retiring Executive Director Marcella May has been a strong supporter of active transportation safety and mode shift efforts, and it will be hard to replace her. If you know of someone who would be a good fit – whether they live here already or not – encourage them to apply!
A Chance to Improve County Transportation Guidelines
At the last minute, Humboldt County planning staff delayed the scheduled hearing Thursday of a deeply flawed proposal for assessing transportation impacts (specifically vehicle miles traveled, or VMT) during the environmental review of future projects. The County is now scheduling a meeting with stakeholders to discuss ways to improve the proposal. That means our comments are working!
Is "Bicycle Road Rage" Really a Thing?
An assault this week by someone who had been riding a bike on another person who had been riding a bike was labeled "bicycle road rage" by the Arcata Police Department and local media. While this was a serious incident that shouldn't be taken lightly, we would argue that "road rage" is not the right description of it. According to the National Highway Traffic Safety Administration, "road rage" is an extreme form of aggressive driving, dangerous because the enraged person is behind the wheel of a vehicle that can serve as a deadly weapon. Using the term to refer to criminal acts committed in proximity to other forms of transportation is misleading and serves to downplay and normalize the extreme dangers of rage and aggression expressed by a person behind the wheel.
Unsafe Conditions Mitigated in Safety Corridor
We reported last week that construction had resulted in dramatically reduced shoulders and unsafe conditions for bicyclists on parts of Highway 101 between Arcata and Eureka. After objections from CRTP and allies, Caltrans has committed to both temporary safety improvements during construction, as well as to permanently maintaining at least 6 foot shoulders through the area.
Supes Approve Secondary Housing Unit Ordinance
Across the state, secondary housing units (a.k.a. "mother-in-law" or "granny flats") are considered to have great potential for increasing housing stock without sprawl. As Supervisor Mike Wilson pointed out, however, there are some concerns in Humboldt County that they could actually encourage sprawl because they're now allowed "by right" in rural resource lands.
Did You Miss the Broadway Corridor Workshop?
Now you can watch it online! And don't forget to read CRTP's take on the situation here.
---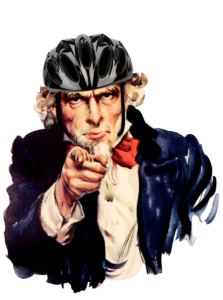 Got Social Media Skills? CRTP Needs You!
CRTP is looking for someone with great social media skills and a passion for responsible transportation to serve as our volunteer Social Media Coordinator. If you're a savvy user of Facebook, Instagram, Twitter and other platforms, this could be you! For more information or to apply, email colin@transportationpriorities.org.
---
Arcata Moves to Let Businesses Use Outdoor City Spaces
The city-owned parking lot which was transitioned to temporary shelter for houseless folks at the beginning of the pandemic has now reverted back to parking. Maybe lots like this could be put to more productive use again.
Humboldt Transit Authority Struggles During Pandemic
Ridership has continued at levels roughly 75% below normal. Federal aid is expected to keep the agency (relatively) fiscally healthy for the time being, but it won't last forever.
Does Smelliness Make "Cannabis Sprawl" Inevitable?
A program intended to encourage cannabis operations to come down out of the hills and establish in more appropriate areas closer to population centers is under attack from neighbors who complain about the odor.
HSU Study on Biking in Older Adults
As the headline says, "Cycling keeps you young!"
Great Redwood Trail Follow-Up Bill in Limbo
SB 356, a follow-up to the Great Redwood Trail Act focused on the Sonoma-Marin Area Rail Transit District (SMART), appears to have been one of many casualties of a COVID-19 dominated legislative session.
---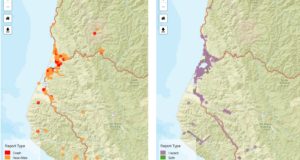 Reminder: Make Your Street Story Reports
672 reports (and counting) have been made in Humboldt County so far. If you see or experience a hazard, near-miss or collision on the street, make your Street Story report here. CRTP uses reports to advocate for change, and local agencies use them to apply for grants and prioritize improvements. Your reports are important!
---
Legislative Session Wraps Up
Among the outcomes: a bill to fast-track bike, pedestrian and transit projects passed, while another bill with a provision that would have threatened bikeshare programs with overwhelming liability was amended after outcry from advocates.
Another Vehicular Attack on Black Lives Matter Protesters
These ongoing attacks continue to remind us that similar local incidents in McKinleyville and Eureka did not happen in a vacuum.
CalBike Petition to Transform Traffic Law Enforcement
This is your chance to endorse principles for reducing the role of police in transportation safety and regulation.
Revisiting the Ecological Footprint (or Wheelprint)
The biggest portion of most Americans' "ecological footprint" is linked to transportation – specifically driving. That's one of the reasons it's so important to drive less! But there's increasing evidence that the focus on personal impacts might be counter-productive, and is encouraged by polluting industries to distract citizens from the much bigger systemic impacts caused by the industries themselves.
---
The Collector is CRTP's weekly transportation news roundup, published every Friday. We focus on North Coast news, but we also include relevant state, national and international transportation news – plus other items that we just find kind of interesting! To submit items for consideration, email colin@transportationpriorities.org.