The Collector
October 2, 2020
---
Are Eureka Police Taking Pedestrian Safety Seriously?
After initially downplaying the incident and blaming the victim, the Eureka Police Department is now asking parties involved in the recent vehicular ramming of a racial justice protester to come forward to make statements. Perhaps the change of tone is related to a new video of the event surfacing. Regardless, this is just the latest in a series of vehicle rammings of racial justice protesters in Eureka, a phenomenon which has to be viewed in the context of a city which consistently ranks among the worst in the state for pedestrian safety even when people are not protesting in the street.
Another Pedestrian Struck on Broadway
Early reports suggest that the crash may have been fatal. For many months, CRTP has been advocating strenuously through the ongoing Broadway Corridor Planning process for immediate safety improvements to prevent more tragedies like this one.
Ocean Drive Walkability/Bikeability Project Underway
Humboldt County and the Redwood Community Action Agency are looking for ways to make McKinleyville's Ocean Drive more walkable and bikeable. As we previously reported, one of the options under consideration is advisory bike lanes/edge lanes. A survey is now live to collect community input, and a (virtual) community meeting is scheduled for Wednesday, October 14th.
Shelter Cove Road Reopens After Three Years
Humboldt County consistently struggles to maintain and repair its extensive network of rural roads. The county's long-term ability to maintain this network in the face of the accelerating climate crisis – which will bring more wildfires, sea level rise and extreme weather – is a question of increasing urgency.
Final Candidate Forum Called Off
The third in a series of local candidates forums co-sponsored by CRTP, this one for Humboldt and McKinleyville Community Services District Board candidates – and previously scheduled for today (Friday, 10/2) – has been canceled. Unfortunately, we couldn't confirm attendance of enough candidates for a reasonable forum. However, the sponsoring organizations have sent the candidates written questions instead and will be publishing their responses.
Del Norte Begins Regional Transportation Plan Update
A (virtual) community meeting has been scheduled for Tuesday, October 20th.
---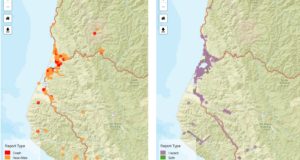 Reminder: Make Your Street Story Reports
684 reports (and counting) have been made in Humboldt County so far. If you see or experience a hazard, near-miss or collision on the street, make your Street Story report here. CRTP uses reports to advocate for change, and local agencies use them to apply for grants and prioritize improvements. Your reports are important!
---
Missed Our Big Report Last Month?
Read up on it in the EcoNews here.
It's National Pedestrian Safety Month
And predictably the federal Department of Transportation is using the opportunity to victim-blame. Advocates are fed up.
Newsom Signs Some Bills
Among the bills that will now be law is one that will exempt certain sustainable transportation projects from environmental review. Also a nifty little bill to allow churches and other houses of worship to build housing on their parking lots without having to replace the parking. The governor vetoed bills, however, that would have established more ambitious goals and policies for addressing the homelessness crisis.
Proposition 15 Could Increase Local Money for Transit, Walking and Biking
So says Streetsblog, which is endorsing the measure.
New York Makes Open Streets, Outdoor Dining Permanent
Although these were supposed to be emergency measures during the pandemic, it turns out that people just really like using streets for activities other than driving.
---
The Collector is CRTP's weekly transportation news roundup, published every Friday. We focus on North Coast news, but we also include relevant state, national and international transportation news – plus other items that we just find kind of interesting! To submit items for consideration, email colin@transportationpriorities.org.