The Collector
October 9, 2020
---
McKinleyville Transit Study Begins
CRTP is coordinating public outreach for the study, which is being conducted by national experts in rural and small town transit systems. Expect draft recommendations in the spring – but don't wait until then to weigh in about how to improve transit in McKinleyville. Give us your comments and ideas now!
Community Services District Candidates Answer Questions…or Not
Candidates for the Humboldt and McKinleyville Community Services District Boards were sent questions to answer by a coalition of 17 local organizations, including CRTP. We asked them how they'd support walkable, bikeable, and transit-oriented communities through their decisions about water & sewer infrastructure, street lighting, and parks. Unfortunately, most of them didn't respond.
Bay Trail Takes Another Step Toward Completion
The Humboldt County Supervisors voted to buy a couple of parcels needed for construction of the final segment.
How Much Money Will Measure H Generate for Eureka's Roads?
Proponents and opponents argue. We wonder: How much money will be spent on the many urgent needs for improving safety and connectivity for people walking, biking and rolling in the city?
A Rare Opportunity to Weigh in on Public Transit in Del Norte
The Social Services Transportation Advisory Council doesn't meet very often. Next week's agenda includes identifying unmet transit needs and considering a five-year update of the Coordinated Plan for Transit Services.
Yes, We Can Have Electric Vehicles on the North Coast
Question answered. Meanwhile, the Arcata City Council approved new chargers for the Arcata Community Center this week.
Neighbors to City & County: Make F Street Safer!
Residents continue their persistent campaign.
---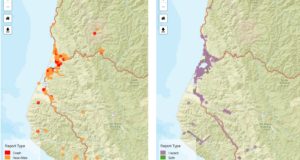 Reminder: Make Your Street Story Reports
686 reports (and counting) have been made in Humboldt County so far. If you see or experience a hazard, near-miss or collision on the street, make your Street Story report here. CRTP uses reports to advocate for change, and local agencies use them to apply for grants and prioritize improvements. Your reports are important!
---
Our Cars, Our Politics?
The shirts said "Trump Train," but there were no rails in sight. Instead, it appeared to be mostly people in SUVs and pickup trucks.
Water District Discusses Extending Service to Trinidad Area
Extensions of water and sewer services into low-density areas often induce more sprawl.
Vehicles Continue to Be Weaponized Against Protesters
National context for some of the local incident in Humboldt County.
Air Resources Board, Transportation Commission and Housing Department Plan Joint Meeting
The agencies are now required to have semi-annual meetings together to plan how to reduce transportation emissions, among other topics. Previous meetings have revealed stark contrasts in how the agencies view the problem.
CalBike Announces 2021 Agenda
It includes establishing rebates for e-bike purchases. Here at CRTP, we think e-bikes could be one of the keys to getting folks in our rural and hilly landscapes out of their cars.
---
The Collector is CRTP's weekly transportation news roundup, published every Friday. We focus on North Coast news, but we also include relevant state, national and international transportation news – plus other items that we just find kind of interesting! To submit items for consideration, email colin@transportationpriorities.org.