The Collector
October 16, 2020
---
Del Norte Transportation Planning Gears Up
The county's Regional Transportation Plan determines what projects are eligible for most state and federal funding, and it only gets updated once every 5 years. On Thursday, the Local Transportation Commission's Technical Advisory Committee got a sneak peak at the new draft. Next Tuesday, there will be a meeting to gather public input. If you live or work in Del Norte, show up and have your say – and take the survey too!
Eureka City Council to Tackle Broadway, Parking Lots, Housing and More
Next Tuesday's meeting will be packed with important items, including:
Providing direction to staff on how to proceed with Broadway Corridor planning (CRTP and allies have been advocating for immediate safety improvements, but other options are still on the table)
Authorizing staff to negotiate an agreement with a Southern California nonprofit housing developer to build 104 units of affordable housing on underused city parking lots (we're strongly in support!)
Approving an expedited permitting ordinance for electric vehicle charging stations (3 years past the state deadline, but better late than never!)
Don't Forget to Weigh in on McKinleyville Transit
There's a study under way examining how to improve public transportation in McKinleyville. CRTP is coordinating outreach, and we want to hear from you!
State Funding for Eureka Roads, 101 Bridges
The California Transportation Commission meets next week, and as always there are North Coast projects on the agenda. Items of interest include allocation of funding to repave and update sidewalks on Highland, Koster, Hawthorne, Felt and 14th Street in Eureka, as well as a Highway 101 bridge seismic upgrade at the border of Humboldt and Mendocino Counties that will include re-striping to widen the shoulders for bicycles.
Tri-County Independent Living Provides PSPS Transportation Support
Among other critical support services for people living with disabilities.
---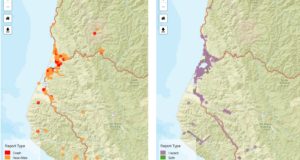 Reminder: Make Your Street Story Reports
686 reports (and counting) have been made in Humboldt County so far. If you see or experience a hazard, near-miss or collision on the street, make your Street Story report here. CRTP uses reports to advocate for change, and local agencies use them to apply for grants and prioritize improvements. Your reports are important!
---
Speeders Set the Speed Limit
A new video explains in 6 minutes the absolute absurdity of the way most states – including California – set speed limits.
Driving While Black
A new documentary on PBS explores the history of race and mobility in America.
CalBike Releases Quick-Build Guide
Because safety – and the climate – can't wait.
Smart Growth America: We Need to Drive Less
A new report explains exactly why electric vehicles, while necessary, are not enough.
---
The Collector is CRTP's weekly transportation news roundup, published every Friday. We focus on North Coast news, but we also include relevant state, national and international transportation news – plus other items that we just find kind of interesting! To submit items for consideration, email colin@transportationpriorities.org.