The Collector
October 23, 2020
---
A Green New Deal in Humboldt?
CRTP Executive Director Colin Fiske joins Tom Wheeler of EPIC and Katy Gurin of 350 Humboldt to talk about what that might look like.
Housing Over Parking Advances, Broadway Discussion Delayed
At its meeting on Tuesday, the Eureka City Council unanimously approved moving forward with a proposal to build 104 affordable housing units on three city-owned parking lots, a move strongly supported by CRTP. They also approved an expedited permitting ordinance for electric vehicle charging stations. However, a discussion of Broadway corridor planning was delayed to a special meeting next Thursday. We'll be there advocating for immediate safety improvements for people walking, biking and rolling.
Another Vehicular Attack on Protesters, Another Reckless Driving Charge
Despite the charges, District Attorney Maggie Fleming's statement was mostly focused on blaming the victims. Fleming says that the reckless driving happened before a person on foot approached the vehicle and "banged on" and "leapt on" it, and that the driver can't be held responsible for the collisions and injuries that happened afterwards. In essence, she concluded that the protester trying to stop a reckless driver in a crowd of people is to blame for the fact that the driver reacted by accelerating and hitting people. After all, who could blame a person encased in tons of plastic and steel for accelerating into flesh-and-bone human beings because they felt nervous? This topsy-turvy logic puts auto-normativity and anti-protest sentiments on full display.
Another Vehicle Hits a Pedestrian on 101 in Eureka
Thankfully, initial reports indicated that the victim was still alive, although seriously injured.
Del Norte Transportation Plan Inching Forward
At a relatively uneventful public meeting this week, consultants for the Del Norte Local Transportation Commission provided background information about the Regional Transportation Plan and asked for input, but did not have a draft Plan ready to share. They expect a draft to be ready for public review in December. Meanwhile, community members can submit their input via this survey.
Humboldt Trails Council Wants to Hear Your Trail Stories
The local organization is participating in a national effort to collect "trail moments." Look out for signs at popular trailheads around the region.
---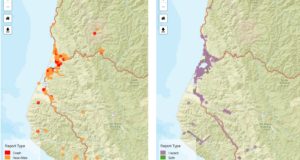 Reminder: Make Your Street Story Reports
697 reports (and counting) have been made in Humboldt County so far. If you see or experience a hazard, near-miss or collision on the street, make your Street Story report here. CRTP uses reports to advocate for change, and local agencies use them to apply for grants and prioritize improvements. Your reports are important!
---
EV Chargers to Get Battery Backup
One of the two sets of chargers at the Bayshore Mall is lining up permits to add a "Battery Energy Storage System" – presumably to improve reliability and reduce electricity costs.
The Allure of the North Coast
Will our region draw droves of climate refugees and city-fleeing rich people over the coming months and years? What will this mean for patterns of local land use and transportation?
EV Charging Stations Aren't Equitably Distributed
A newly published study conducted by researchers at Humboldt State University finds geographic disparities in charging infrastructure across the state that are correlated with race and income.
SUVs Just Keep Getting Bigger
Who exactly benefits from this crazy trend, aside from car manufacturers?
---
The Collector is CRTP's weekly transportation news roundup, published every Friday. We focus on North Coast news, but we also include relevant state, national and international transportation news – plus other items that we just find kind of interesting! To submit items for consideration, email colin@transportationpriorities.org.