The Collector
October 30, 2020
---
City Council Calls for Urgent Safety Upgrades on Broadway
The Eureka City Council heard updates on the long-term Broadway Corridor Plan on Thursday. Between last week's meeting, when the item was initially on the agenda, and this week's meeting when it was actually discussed, another person riding a bike was killed on Broadway. Councilmembers seemed to grasp the urgency of the bike/pedestrian safety crisis that CRTP has been highlighting throughout the planning process, and most of the discussion was focused on short-term interventions rather than the long-term plan. Caltrans is scheduled to report back to the Council within the next month on what kinds of safety upgrades could be funded and built in the immediate future.
Pedestrian Victim Blaming Reaches New Heights of Absurdity
A person crossing 4th Street in Eureka in a marked crosswalk is nevertheless being blamed for the hit-and-run collision which put them in a hospital in serious condition. The Eureka Police Department claims that the victim "appeared to suddenly run out in front of the car that ultimately struck him." Let's be absolutely clear: If drivers are following the law, there is no way for them to hit a pedestrian in the middle of a marked crosswalk and not be at fault. And more important than any legal standard are (1) the ethical requirement of due caution when operating a potentially deadly machine like a car or truck, and (2) the pattern of serious collisions on these roads that indicate that street design, not aberrant behavior, is the real problem.
"Rolling Justice" Rally Planned to Protect Election Results
Bikes, cars and vehicles of all kinds will be used in the post-Election Day rally.
HCAOG Director Named 2020 Responsible Transportation Champion
Marcella May received CRTP's annual award for "her leadership in the development of safe and appealing alternatives to driving, from trails to sidewalks to improved bus service" in Humboldt County.
Caltrans Appeals Richardson Grove Ruling…Again
Apparently the agency has not yet given up on its decades-long quest to widen and straighten Highway 101 through the state park to allow extra-big trucks to drive through.
McKinleyville Committee Talks Transit Improvements, Town Center
The Municipal Advisory Committee heard about and gave input on the ongoing McKinleyville Transit Study, and later heard an ambitious schedule for moving ahead with Town Center planning. Long-awaited architectural renderings of potential Town Center designs are now slated for public release next week.
Supes Discuss Speed Limits on Private Roads
Private road improvements associations in Humboldt can join California's broken system for setting and enforcing speed limits!
---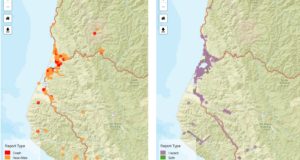 Reminder: Make Your Street Story Reports
697 reports (and counting) have been made in Humboldt County so far. If you see or experience a hazard, near-miss or collision on the street, make your Street Story report here. CRTP uses reports to advocate for change, and local agencies use them to apply for grants and prioritize improvements. Your reports are important!
---
Depressed? Maybe You Should Blame Cars
A new studies shows shockingly high increases in depression and other mental health problems correlated with emissions from cars and trucks.
Agencies to Meet Jointly Next Week on Climate, Transportation and Housing
Can they align their programs, policies and plans to achieve the state's goals?
"Jaywalking" Is a Concept Invented for Victim-Blaming Pedestrians
It's time to decriminalize it.
State Treasurer Touts EV Infrastructure
Since the governor's executive order for all new vehicles to be zero-emission by 2035, a lot of folks are getting pretty excited.
---
The Collector is CRTP's weekly transportation news roundup, published every Friday. We focus on North Coast news, but we also include relevant state, national and international transportation news – plus other items that we just find kind of interesting! To submit items for consideration, email colin@transportationpriorities.org.