The Collector

November 6, 2020
Editor's Note: We know everyone is anxiously watching election results roll in. But just like vote counting in swing states, transportation issues never stop! So here's your weekly report.
---
CRTP and Allies Call for More Near-Term Safety Improvements on Broadway
Caltrans and the City of Eureka have committed to making some near-term improvements. We're working to make sure they include all of the feasible changes that would protect people walking and biking on the street.
Trump Parade Driver Threatens Pedestrian
The driver of a large pickup truck with an American flag and Trump sign veered intentionally toward – and nearly hit – a counter-protester on foot in McKinleyville.
Got Any Unmet Transit Needs?
The annual Unmet Transit Needs process in Humboldt County is happening now, with a series of hearings and an online comment form. The Humboldt County Board of Supervisors held its hearing this week. If you have unmet needs, or have ideas about how to get transit back to health after ridership drops during the pandemic, now's the time to speak up!
Tell Us How to Improve Transit in McKinleyville
CRTP and partners are still taking input on the McKinleyville Transit Study. If you live or work in McKinleyville, let us know your ideas for making public transportation there more convenient, effective, and easy to use.
Local Transportation and Housing-Related Ballot Measures Likely to Pass
OK, here's one thing about the election. Measure B in Arcata and Measure I in unincorporated Humboldt County would increase the percentage of allowed low-income and supportive housing. Measure E in Trinidad, Measure G in Fortuna, and Measure H in Eureka would all increase or retain sales taxes, some of whose revenue will go toward streets and roads. All of the measures were leading by wide margins in election-night vote tallies.
---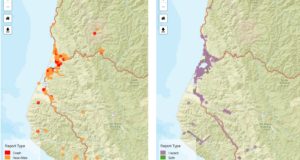 Reminder: Make Your Street Story Reports
700 reports (and counting) have been made in Humboldt County so far. If you see or experience a hazard, near-miss or collision on the street, make your Street Story report here. CRTP uses reports to advocate for change, and local agencies use them to apply for grants and prioritize improvements. Your reports are important!
---
Carmakers Knew Decades Ago They Were Killing the Climate
They ignored and covered up that knowledge, and even today they're doubling down on big climate-destroying SUVs and pickup trucks.
What If Women Designed Cities?
Land use and transportation planning and engineering have long been dominated by men. Some are now pointing out that the needs and desires of half the population have often been ignored.
State Agencies Talk Equity, Climate Action
At their semi-annual joint meeting, the California Air Resources Board, Transportation Commission and Department of Housing and Community Development discussed how to incorporate equity into their work. They also received an update on a forthcoming statewide Climate Action Plan for Transportation Infrastructure – so keep your eyes open for that!
---
The Collector is CRTP's weekly transportation news roundup, published every Friday. We focus on North Coast news, but we also include relevant state, national and international transportation news – plus other items that we just find kind of interesting! To submit items for consideration, email colin@transportationpriorities.org.