The Collector



November 13, 2020
---
McKinleyville Town Center Meeting Scheduled for Next Week
Long-awaited conceptual renderings of potential town center designs are not yet ready, so the discussion will focus on the proposed wetlands policy. CRTP is here to remind you that a large portion of the future town center is already developed, and can be re-developed over the long term with no impact to wetlands.
Public Meeting Next Week on Eureka Housing Proposal
CRTP strongly supports the effort to build affordable housing on city-owned parking lots. We're working to ensure that this project also comes with significant pedestrian, bike and transit improvements.
Arcata Committee to Hear Presentation on CRTP Report
Tuesday's agenda for the Transportation Safety Committee also includes an update on the search for a new bikeshare program and consideration of requests for new stop signs and parking changes.
High-Speed Police Chase in Eureka Ends in Serious Injuries
As we have pointed out before, high-speed chases regularly kill and injure bystanders. Many cities have policies against them for that reason.
HSU Foundation Buys "The Village" Site
With the formerly proposed student housing project no longer on the table, one of the proposed future uses for the site is…more parking! Just what an "eco-friendly" school currently hemorrhaging students and revenue dollars needs.
Potential Water Service to Trinidad Area to Be Explored
As Supervisor Steve Madrone noted, extension of municipal water service often induces additional development – which means more driving.
Humboldt Residents are Moving Around Almost As Much as Before the Pandemic
But our destinations have changed.
---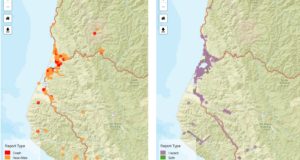 Reminder: Make Your Street Story Reports
700 reports (and counting) have been made in Humboldt County so far. If you see or experience a hazard, near-miss or collision on the street, make your Street Story report here. CRTP uses reports to advocate for change, and local agencies use them to apply for grants and prioritize improvements. Your reports are important!
---
King Tides This Weekend Will Preview Sea Level Rise
Some low-lying coastal roads are likely to flood.
Give Your Input on Caltrans Active Transportation Planning
Take the survey, and keep using Street Story – they'll be looking at those data, too!
Prop 22 Passes; Local Cab Companies Brace for the Impact
Uber, Lyft and Doordash spent over $200 million to pass the measure exempting their drivers from state employment laws. One under-reported consequence: With each driver acting as an independent contractor, it will be much harder to impose regulations that transition the companies' fleets to zero-emission vehicles. Another: the creation of a massive government subsidy for an essentially unsustainable form of transportation.
Bad News for Statewide Land Use and Housing Measures
Prop 15, which would have created a significant new revenue source for local transportation (and other services and capital improvements), failed. So did Prop 21, which would have allowed local governments to implement rent control measures.
---
The Collector is CRTP's weekly transportation news roundup, published every Friday. We focus on North Coast news, but we also include relevant state, national and international transportation news – plus other items that we just find kind of interesting! To submit items for consideration, email colin@transportationpriorities.org.