The Collector



November 20, 2020
Editor's Note: We'll be off next week for Thanksgiving. Enjoy the holiday safely!
---
County Issues Travel Advisory
Long-distance travel is considered high risk for spreading COVID-19, and local authorities are discouraging it.
State Produces Great Redwood Trail Report
A long-awaited report has been published on the financial and technical challenges facing the transition of the current North Coast Railroad Authority's right-of-way to a long-distance trail system. The short version: it will be very expensive, but the NCRA will have to reckon with most of those costs no matter what happens – so we might as well get a world-class trail out of it! Now that the report is out, State Senator Mike McGuire will likely be introducing legislation to take the next steps toward eventual trail construction.
Broadway Report Delayed
The Humboldt County Association of Governments (HCAOG) Board was scheduled to hear a report on the Broadway Multimodal Corridor Plan this week. But the Plan was reportedly not ready in time, and the item has been postponed. They did, however, hold an Unmet Transit Needs hearing and receive a report on future efforts to build more housing in the county.
King Tides, Storms Flood Roads
A preview of coming sea level rise.
McKinleyville Municipal Advisory Committee Talks Wetlands
The committee heard from a panel of experts and discussed proposed changes to wetland policy for the Town Center area. No final decisions were made, but committee members seemed more reticent to approve additional wetlands impacts than they had in the past. Whatever happens, CRTP is working to ensure that the Town Center becomes a walkable, bikeable hub for the county's third-largest community.
"Project Eureka" Launches to Beautify Downtown Streets
Could beautification help improve safety along the Highway 101 corridor?
---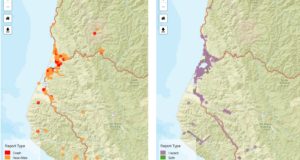 Reminder: Make Your Street Story Reports
708 reports (and counting) have been made in Humboldt County so far. If you see or experience a hazard, near-miss or collision on the street, make your Street Story report here. CRTP uses reports to advocate for change, and local agencies use them to apply for grants and prioritize improvements. Your reports are important!
---
Technical Glitches Cancel Arcata Transportation Committee Meeting
The meeting has been postponed to December – including CRTP Executive Director Colin Fiske's presentation on our "Elephants in the Road" report.
The Role of Cars in This Crazy Year
Here's a good round-up of cars, politics and the pandemic in 2020. Cars continue to take center stage with the politicization of vehicular attacks on protesters, among other issues.
US Bike, Pedestrian Fatalities Continue to Rise
But they're dropping fast in most of Europe and the rest of the developed world. Maybe we could learn some lessons from our friends overseas.
In the Wake of Prop 22, Whither Ride Hailing?
Many problems with companies like Uber and Lyft remain – or have gotten much worse.
New Tool Maps Greenhouse Gases from Transportation
The tool, from the California Air Resources Board, is in beta testing.
The Lithium Question
The transition to electric vehicles means that the demand for lithium batteries is expected to surge. What does that mean for Bolivia, which has the world's biggest lithium resource?
"Oil Capital of Canada" Eliminates Parking Minimums
If Edmonton can do it, any city can.
---
The Collector is CRTP's weekly transportation news roundup, published every Friday. We focus on North Coast news, but we also include relevant state, national and international transportation news – plus other items that we just find kind of interesting! To submit items for consideration, email colin@transportationpriorities.org.