The Collector



December 4, 2020
---
Caltrans Reports to Eureka City Council on Broadway Situation
On Tuesday, local Caltrans officials told the Council that they could probably add a couple more pedestrian crossings of Broadway next summer. Here at CRTP, we think those crossings are great – but far more needs to be done to address the ongoing safety crisis.
State Transportation Commission Approves Great Redwood Trail Plan
Almost the entirety of the North Coast Railroad Authority's right-of-way north of Willits will soon be "railbanked" for future trail construction. The Commission also put some funding back in Humboldt's transportation coffers as a result of the big Highway 101 Arcata-Eureka corridor project costing a lot less than anticipated.
More Talk About Broadway
Listen to a full discussion of the issues on the Eco News Report.
Draft Del Norte Regional Transportation Plan Released
Public comment is due by January 12, 2021.
Arcata Planning Commission to Consider Sea Level Rise Planning
Significant portions of the city – including streets, roads and trails – are threatened by projected sea level rise.
Pedestrian Seriously Injured in Glendale Collision
There was also another pedestrian killed in Eureka this week. Also, although we focus on covering bicycle and pedestrian injuries in The Collector, it is worth remembering that driving in our region is extremely dangerous too.
Two Surveys on Local Transit
A survey for the annual Humboldt County Unmet Transit Needs process is underway, as well as one for the current update of Humboldt's Coordinate Public Transportation Plan.
New Local Electric Vehicle Rebate Now Available
While funding lasts, when you buy a new EV in Humboldt, you can apply for a rebate from the Redwood Coast Energy Authority – in addition to larger state and federal subsidies.
---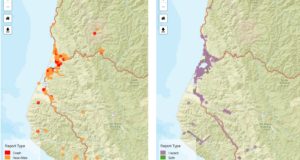 Reminder: Make Your Street Story Reports
713 reports (and counting) have been made in Humboldt County so far. If you see or experience a hazard, near-miss or collision on the street, make your Street Story report here. CRTP uses reports to advocate for change, and local agencies use them to apply for grants and prioritize improvements. Your reports are important!
---
Webinar on "Inclusive Planning in Tribal Communities"
Tune into this webinar from America Walks next week on how to involve folks with disabilities in tribal transportation planning.
Are States Trying to Kill More Pedestrians?
As pedestrian and bicyclist deaths increase nationwide, many states – including California – are setting official federal targets for those deaths that are even bigger than the number of people currently being killed.
Fund Transit as Much as Highways!
80% for highways? That's so 1980s.
The Pandemic Hasn't Reduced Emissions Nearly Enough
It turns out we can't rely on global disasters to reduce our carbon emissions (a very large fraction of which comes from transportation). We might actually have to do it intentionally.
---
The Collector is CRTP's weekly transportation news roundup, published every Friday. We focus on North Coast news, but we also include relevant state, national and international transportation news – plus other items that we just find kind of interesting! To submit items for consideration, email colin@transportationpriorities.org.