The Collector



December 11, 2020
---
Eureka City Council to Hear Mayor's Report on Traffic Safety
In recent months, it has become increasingly clear that there is a traffic safety crisis in the city.
First Public Discussion of Major Housing Project Design
This week, the City of Eureka's Design Review Committee had its first discussion about the proposal by Linc Housing to build affordable apartments on three city-owned parking lots. It will be the biggest infill housing project in Humboldt County in a very long time and is strongly supported by CRTP.
Court Overturns Environmentalist Victory in Richardson Grove Case
A federal appeals court dealt a setback to opponents of the highway expansion project. However, the legal fight is far from over. The Humboldt County Board of Supervisors also debated this week whether to include support for the project in its annual legislative platform, ultimately delaying a decision until next week. Although not involved in the litigation, CRTP has always opposed this project.
Humboldt Supervisors Discuss Relocation Policy
Also at this week's meeting, the Supes were slated to adopt an official policy on how to relocate residents displaced by County projects – the subject of a lawsuit earlier this year that included CRTP. However, after comments from CRTP that the policy does not adequately account for transportation impacts, as well as objections from Legal Services of Northern California, the Board punted this topic to next week too.
We Can Tackle Our Transportation Challenges, If We Act Now
Check out the new op-ed by CRTP Board Member Keenan Hilton in the Times-Standard.
New HCAOG Executive Director Announced
Marcella May, this year's Responsible Transportation Champion, will be retiring at the end of the year. We now know that local planner Beth Burks will be taking her place in January.
The Intersection of Safety and Environmentalism on Broadway
CRTP Executive Director Colin Fiske tackles this heavy topic in the EcoNews.
Arcata to Hold Official Listening Session Next Week
Want the city to focus on transportation issues next year? Now's your chance to tell the new Council. On a related note, CRTP Executive Director Colin Fiske is also scheduled to present next week to the Arcata Transportation Safety Committee on recommendations from our recent report. (The presentation was originally scheduled for last month but delayed due to technical difficulties.)
New Money for Harbor Upgrades?
Marine transportation infrastructure is always connected to land-side transportation infrastructure.
---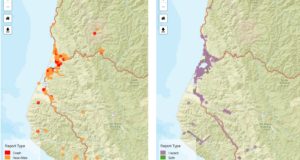 Reminder: Make Your Street Story Reports
713 reports (and counting) have been made in Humboldt County so far. If you see or experience a hazard, near-miss or collision on the street, make your Street Story report here. CRTP uses reports to advocate for change, and local agencies use them to apply for grants and prioritize improvements. Your reports are important!
---
Bicycle Tragedy in Nevada
Five people participating in a group ride were killed when a truck plowed into the group. Bicycle and pedestrian deaths continue to increase nationwide.
Why Do We Forgive Violent Acts Behind the Wheel?
A professor argues that American law is ill equipped to handle violence – including political violence – when a car or truck is the weapon.
Car & Truck Pollution Doesn't Just Come from Tailpipes
It comes from tires, too – another reason that just switching to electric vehicles won't solve all the problems caused by driving.
You Can Add Temporary Bike Lanes with Corn Starch and Cheap Paint!
One of the fascinating lessons learned on this week's webinar about implementing quick-build bike safety projects on the cheap.
---
The Collector is CRTP's weekly transportation news roundup, published every Friday. We focus on North Coast news, but we also include relevant state, national and international transportation news – plus other items that we just find kind of interesting! To submit items for consideration, email colin@transportationpriorities.org.