The Collector



December 18, 2020
Editor's Note: We're off the next 2 weeks. But never fear, The Collector will be back in 2021! Stay safe and healthy, and happy holidays to all.
---
Supes Narrowly Continue Support for Richardson Grove Project
The decades-long controversy continues, and misinformation abounds. Some Humboldt County Supervisors seem to have construed this project as an old-fashioned "jobs-vs.-environment" bellwether and feel the need for political posturing in their legislative platform, even though it is not an issue before any legislature. CRTP has long opposed the project for many reasons. This time around, we pointed out that the project is using the same funds that could be used for safety upgrades in places like Broadway, and is intended to design the highway for big 1980s-style fossil-fueled trucks at a time when the freight industry is moving rapidly toward autonomous electric vehicles which will likely look quite different.
Eureka to Declare a Traffic Safety Crisis
This week, Eureka Mayor Susan Seaman made the case for declaring an official crisis, and the City Council agreed. They also reached consensus to direct the city's Transportation Safety Commission to update the official traffic safety plan, and to create a task force (on which CRTP will serve) to come up with a plan to address the crisis. An official declaration and related actions will come at a future meeting.
Draft Broadway Plan Released
At a meeting this week, the Humboldt County Association of Governments heard about the plan. CRTP again stressed the need for near-term safety improvements, a few of which are included in the plan. Comments on the plan will be accepted through January 13th. Meanwhile, the City of Eureka is beginning an assessment of contamination on the Balloon Track. The draft Plan calls for building new roadways through the Track area, which would be a lengthy, expensive and controversial process.
Arcata Visioning Session Focused on Housing, Climate, Equity and Transportation
At a community visioning session on Thursday, Arcata residents asked the city to prioritize a slate of issues that sounded like they could have come right out of CRTP's vision statement, ranging from access to affordable infill housing to new bike and pedestrian infrastructure and climate adaptation. Many of the same issues were raised by new Councilmembers the night before when they reviewed the topics constituents brought to them on the campaign trail.
McGuire Introduces Bill to Create Great Redwood Trail Agency
SB 69 would replace the North Coast Railroad Authority with the new agency and charge it with developing a trail system on the rail right-of-way north of the Sonoma-Mendocino county line. (South of the county line, that would be the responsibility of Sonoma-Marin Area Rail Transit.)
Arcata Committee Hears About "Elephants in the Road"
CRTP Executive Director Colin Fiske presented on our recent report to a receptive Transportation Safety Committee. Next step: implement all those recommendations!
---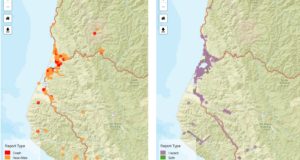 Reminder: Make Your Street Story Reports
714 reports (and counting) have been made in Humboldt County so far. If you see or experience a hazard, near-miss or collision on the street, make your Street Story report here. CRTP uses reports to advocate for change, and local agencies use them to apply for grants and prioritize improvements. Your reports are important!
---
A Tale of Two Collisions
A pedestrian was struck and seriously injured on 4th Street in Eureka this week. News coverage noted that the victim was "wearing black." In an unrelated tragedy this week, an allegedly intoxicated driver crashed a car, killing his passenger. The driver was immediately arrested on vehicular manslaughter charges, and no details were released about the victim. While these incidents differ in many respects, the reporting is typical of the way law enforcement and the media present these different types of collisions. Coverage of crashes in which pedestrians are injured or killed almost always includes details which create a victim-blaming narrative, while such details are almost never reported when the victim was inside a vehicle. (The reporting in this case, for example, did not discuss why the victim might have been riding in a car with an intoxicated driver. Nor should it have.)
Another Reason to Drive Less
Driving cars and trucks will always have a lot of impacts, even when all those vehicles are electric. Recently, scientists have uncovered one more impact – a chemical that comes from tires is polluting waterways and killing coho. Find out more on the EcoNews Report.
Slide at Last Chance Grade
Another winter, another slide.
The Real Estate Industry Is Too Focused on Single-Family Homes
A new report argues the industry needs a major "reset" to focus on creating the kinds of housing and communities we need today.
---
The Collector is CRTP's weekly transportation news roundup, published every Friday. We focus on North Coast news, but we also include relevant state, national and international transportation news – plus other items that we just find kind of interesting! To submit items for consideration, email colin@transportationpriorities.org.