The Collector



January 8, 2021
---
Long-Awaited McKinleyville Town Center Plans Released
Instead of the expected architectural renderings, the County released a conceptual land use and circulation plan for the undeveloped portion of the Town Center. The plan calls for a mixture of housing and commercial development, along with open space, and even includes a pedestrian-only street area. CRTP supports many elements of this early draft, but we're calling for some changes, too. Most importantly, the already-developed portions of the Town Center need to be included in the plans, rather than assuming that existing strip malls will stay that way forever.
Another Pedestrian Killed on Highway 101
This tragedy occurred on a stretch of highway that has no pedestrian facilities. Often, highway planners argue that there is no need for pedestrian facilities on highways where pedestrians are not "supposed" to be. But in this location and many others throughout the North Coast, there is no way to travel north or south without a vehicle without walking on the highway (or another road with no pedestrian facilities).
Broadway Plan Moves Ahead
The Humboldt County Association of Governments Technical Advisory Committee recommended approval of the plan yesterday with almost no discussion. CRTP continues to advocate for a focus on near-term improvements to address the safety crisis on Broadway, rather than big-dollar, long-term plans that may never happen. Read our latest comment letter here.
Del Norte Regional Transportation Plan Meeting Next Week
CRTP is developing detailed comments on the draft plan.
Eureka Transportation Safety Committee to Discuss Updating Traffic Safety Plan
The City Council delegated a big task to the committee when they decided that updating the plan should account for most of the city's effort to address the ongoing traffic safety crisis.
Will COVID Bring Open Streets to the Arcata Plaza?
The Arcata City Council discussed potential uses for emergency COVID-related funding this week, and the idea of opening streets on the Plaza to assist businesses and residents with outdoor dining and other socially distanced activities was mentioned. This has been a long-term goal for CRTP, and we'll be following developments closely.
Local Car Attacks on Protesters Make Annual "Dick Moves" List
The phenomenon is #2 on the North Coast Journal's list, right after the entire year 2020.
Humboldt County Receives Bike & Pedestrian Safety Grant
Unfortunately, they intend to spend the money "educating" bicyclists and pedestrians about how not to be killed by cars, instead of educating drivers about how not to kill people. This kind of approach contributes to our society's larger pedestrian victim-blaming problem.
Eureka to Add Cooper Gulch Trail to Capital Improvement Plan
At its meeting next week, the city's Planning Commission will consider a plan that includes a bike and pedestrian trail extending from the Waterfront Trail in the north to Buhne Street in the south – the start of a much-anticipated "Bay-to-Zoo" trail.
Who Needs Richardson Grove Project Anyway?
CRTP Board Member Dave Spreen brings the perspective of someone with long experience in the local freight industry.
---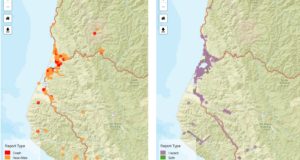 Reminder: Make Your Street Story Reports
715 reports (and counting) have been made in Humboldt County so far. If you see or experience a hazard, near-miss or collision on the street, make your Street Story report here. CRTP uses reports to advocate for change, and local agencies use them to apply for grants and prioritize improvements. Your reports are important!
---
A Eureka "Flâneur"
A great local example of streets as our premier public spaces.
Biden to Name Buttigieg Transportation Secretary
"Mayor Pete" marks a shift from previous transportation secretaries in two big ways: (1) His experience is primarily in local government, where most transportation dollars are spent; (2) He is a household name and has significant political ambitions beyond this post. Biden is also set to name former Michigan Governor Jennifer Granholm as his Energy Secretary. Granholm has close ties to the auto industry and is known as a major supporter of electric vehicles.
More Evidence that Sprawl, Not Density, Aids COVID-19 Spread
The COVID disaster unfolding in Southern California may be partly a result of land use patterns.
First City Posts Climate Change Warnings at Gas Stations
Cambridge, Massachusetts took this long-overdue step. Which city will be next?
---
The Collector is CRTP's weekly transportation news roundup, published every Friday. We focus on North Coast news, but we also include relevant state, national and international transportation news – plus other items that we just find kind of interesting! To submit items for consideration, email colin@transportationpriorities.org.