The Collector



January 15, 2021
---
Pedestrian Priority in McKinleyville Town Center
During a McKinleyville Municipal Advisory Committee meeting this week, county-contracted architect Kash Boodjeh discussed prioritizing bikes and pedestrians on new streets in the Town Center area, as well as the importance of safe crossings of Central Avenue.
Housing Money May Help Pay for Humboldt's Climate Action Plan Completion
The fact that local governments are making the connection between the climate crisis and the housing crisis is critically important progress. It's another step in the direction of denser, infill, transit- and active transportation-oriented development. Find out more at next week's Humboldt County Association of Governments Board meeting.
Preliminary Draft of Climate, Mode Shift Targets Released
An ad hoc committee of the Humboldt County Association of Governments has drafted the targets for inclusion in the upcoming Regional Transportation Plan update. CRTP participated in the development of the targets and strongly supports most of them, although we will be making a few more comments. That's our job, after all! The public is invited to comment between now and February 12, 2021.
Del Norte Regional Transportation Plan Environmental Documents Released
Meanwhile, a well-advertised presentation about the RTP at a public meeting this week included no opportunity for public questions or comments. In any case, CRTP will be submitting detailed comments in writing soon.
Water District Talks About McKay Subdivision
The location of the subdivision on the outskirts of Eureka is less than ideal for active transportation and transit, but CRTP has some ideas for improving it if it ever moves forward.
---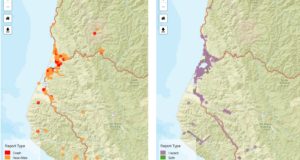 Reminder: Make Your Street Story Reports
716 reports (and counting) have been made in Humboldt County so far. If you see or experience a hazard, near-miss or collision on the street, make your Street Story report here. CRTP uses reports to advocate for change, and local agencies use them to apply for grants and prioritize improvements. Your reports are important!
---
More Rains, More Slides
Major landslides hit Last Chance Grade, Highway 299, and Highway 36 this week. Every winter brings these reminders of how difficult and expensive it is to maintain our extensive road network in this rugged landscape.
Newsom's Budget Includes $1.5 Billion for Electric Car Incentives
Republicans aren't happy.
California Air Resources Board Aims for 800 Zero-Emission Trucks This Year
The initiative is focused on drayage trucks, short-haulers serving port facilities. Find out more at a webinar next week.
Self-Driving Vehicles Exempt from Safety Regulations?
That's what the Trump administration is proposing on its way out the door.
---
The Collector is CRTP's weekly transportation news roundup, published every Friday. We focus on North Coast news, but we also include relevant state, national and international transportation news – plus other items that we just find kind of interesting! To submit items for consideration, email colin@transportationpriorities.org.