The Collector



August 26, 2022
---
Decision Makers Support Gateway Building Heights
At their joint meeting this week, the largest subset of Arcata City Councilmembers and Planning Commissioners supported the proposed building height limits in the draft plan (ranging from 5 to 8 stories). They also supported the plan for a K/L Street one-way couplet that would address dangerous conditions for walking and biking on K Street. These results bode well for the future of the bike and pedestrian friendly plan. But no final decisions were made, leaving lingering questions about what will happen next. One way to have your say is to fill out this newly available survey (if you didn't do it already at the August 16th workshop).
Why Are Our Communities Designed for Cars Instead of People?
CRTP Executive Director Colin Fiske will delve into the history in a series of articles in the EcoNews, starting this month with the story of the first traffic laws.
Committee to Discuss Possible Transportation Tax Measure
Next Thursday, the Humboldt County Association of Governments Technical Advisory Committee will discuss the transportation tax ballot measure recently proposed by Supervisor Steve Madrone. This will be the first public discussion of the topic since it appeared on a Board of Supervisors agenda last month. CRTP believes it is imperative that the measure include funding for active transportation and transit, not just roads.
Bike Rodeo in Valley West This Weekend
Join the City of Arcata and a variety of community organizations this Sunday in Carlson Park for a fun and educational celebration of all things bike.
Humboldt Supervisors Establish Samoa Infrastructure District Fund
With more people living in the area, and the potential for huge increases in industrial activity and trucking, the new district could eventually help fund long-needed safe bike and pedestrian infrastructure on the Samoa peninsula.
---
We know you've experienced unsafe streets around here.
Report near-misses, collisions, and hazardous locations on Street Story. La versión en español está disponible aquí.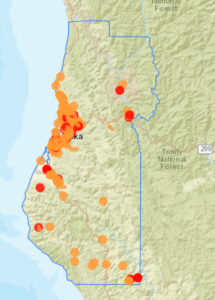 ---
Transportation Bills Heading to Governor's Desk
It's almost the end of the legislative session in Sacramento, and that means a lot of bills are moving quickly. Bills currently approved by the legislature and heading for Newsom's signature (or veto) include:
US Traffic Fatalities Are Skyrocketing, and Some Communities Are Hit Harder than Others
The dramatic increase in fatalities that started at the onset of the pandemic hasn't let up – the disproportionate impact on low-income people and people of color is getting even worse.
It's Official: California Won't Allow Gas Cars After 2035
Well, sort of. Some plug-in hybrids will still be allowed. And so will heavy-duty diesel trucks. And gas-powered cars and trucks already on the road will still be both driven and sold in the used car market. Which is why we won't be able to meet climate targets without also reducing driving levels overall.
---
The Collector is CRTP's weekly transportation news roundup, published every Friday. We focus on North Coast news, but we also include relevant state, national and international transportation news – plus other items that we just find kind of interesting! To submit items for consideration, email colin@transportationpriorities.org.