The Collector



September 2, 2022
---
Transit Funding Could Be Included in Local 2024 Ballot Measure
Yesterday, the Humboldt County Association of Governments Technical Advisory Committee discussed a potential 2024 local transportation tax ballot measure. Local public works officials advocated for allowing each city (and the county) to set its own priorities for spending, rather than limiting eligible activities just to maintenance. At CRTP's urging, officials also agreed to consider including public transit funding in the measure – particularly if it proves popular in public polling. Stay tuned for future opportunities to express your support for putting transit funding on the ballot!
Eureka Residents Want Crosswalks Near Elementary School
Dolbeer Street is also the site of a potential lane reduction and improved bike infrastructure, as we have previously reported. We hope that when the city paints the needed crosswalks, they also take the opportunity to implement those other important safety improvements.
Elk Valley/Highway 199 Intersection May Finally Get Safety Upgrades
Funding has been identified for the project, which has been a priority in Del Norte County for years. The project will be discussed at a Del Norte Local Transportation Commission meeting next Tuesday.
Arcata Council to Approve New Bus Driver Position
The new position will be closer to full-time, allowing better pay and benefits and hopefully attracting more candidates. (There is currently a nationwide bus driver shortage.) Next Wednesday's agenda also includes approval of a contractor to develop plans to improve the dangerous LK Wood/Sunset Ave intersection, and the purchase of what may be the region's first electric pickup truck for a public fleet.
What Does the Inflation Reduction Act Mean for the North Coast?
CRTP Executive Director Colin Fiske joins other local environmental leaders for a discussion on the EcoNews Report.
---
We know you've experienced unsafe streets around here.
Report near-misses, collisions, and hazardous locations on Street Story. La versión en español está disponible aquí.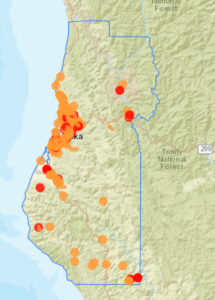 ---
More Transportation Bills Heading to Governor's Desk
The legislative session is over, and even more bills are currently heading for Newsom's desk. In addition to those mentioned in last week's edition of The Collector, they include:
AB 1938, which would take another small step toward allowing lower speed limits
AB 2438, which would require many of the state's transportation funding programs to align with its greenhouse gas reduction goals
AB 2097, which would prohibit local governments from requiring parking at new developments near high-quality public transit (under the legal definition, the North Coast doesn't yet have any high-quality transit – but if we keep advocating, someday we will!)
Two Big Disappointments at the End of the Legislative Session
In addition to the many bills supported by transportation advocates which made it through the legislature, there were two major setbacks. First, the governor's opposition again killed a bill that would have legalized the "rolling stop" for bikes, even though overwhelming evidence shows that existing bike laws do not improve safety and are disproportionately enforced on people of color. Second, the bill mandating onerous insurance requirements for scooter share systems (thankfully the bike share mandate was removed) was approved by the legislature. If Newsom signs it, we may see many of the smaller shared scooter systems disappear across the state.
Putting a Spotlight on "Unseen Cyclists"
Many unhoused people rely on bikes to move themselves and their possessions. Their needs deserve to be considered when planning bike infrastructure.
Speed Limits Could Be Self-Enforcing
The technology exists to force cars to drive below the speed limit. Why don't we use it?
---
The Collector is CRTP's weekly transportation news roundup, published every Friday. We focus on North Coast news, but we also include relevant state, national and international transportation news – plus other items that we just find kind of interesting! To submit items for consideration, email colin@transportationpriorities.org.