The Collector



August 5, 2022
---
Hydrogen-Powered Buses and Offshore Wind
Congressman Huffman heard about local plans for transitioning to hydrogen buses this week. For these vehicles to be truly zero-emission, however, the hydrogen fuel will need to be "green" – i.e., produced from water using renewable electricity (rather than from fossil fuels). That's why CRTP and allies recently submitted comments to the Bureau of Ocean Energy Management requesting that they prioritize off-shore wind developers who commit to building local green hydrogen facilities.
Density Debate at Arcata Planning Commission
An attempt by some Commissioners to cap building height in the Gateway area at 4 stories was unsuccessful (for now at least). We are grateful to those who recognize the importance of greater density for housing and walkability. The Commission will reconvene for yet more Gateway discussion next Tuesday. Earlier this week, the Transportation Safety Committee recommended that instead of the Gateway Plan's proposed K/L Street single-lane couplet, the L Street corridor should be car-free in the Plan and K Street should stay more or less as it is. While CRTP strongly supports car-free streets, we can't support leaving K Street as a car-dominated thoroughfare that's unsafe to bike on or to cross while walking, biking or rolling.
Humboldt Planning Commission Approves Nordic Aquafarms
Disappointingly, they did not add any additional conditions of approval to mitigate greenhouse gas emissions or the safety impacts of all those additional car and truck trips. More permits will be required, however – most notably from the California Coastal Commission – so the story isn't over yet.
Bike and Pedestrian Improvements Coming to W and Dolbeer Streets?
The City of Eureka is trying out a new configuration this week. Take the survey and tell them bike and pedestrian safety is more important than moving cars quickly through the neighborhood.
Arcata Council Approves New Bus Agreement with Cal Poly Humboldt
The agreement will cover bus rides on the Arcata & Mad River Transit System for students, faculty and staff, and the university will pay for extended service hours.
More Subsidies for the McKinleyville Airport
If only money flowed so freely for, say, public transit.
---
Street Story: The Public Platform for Street Safety
Local residents have made 945 reports so far. Add a report any time you see a hazardous spot or experience a collision or near miss. La versión en español está disponible aquí.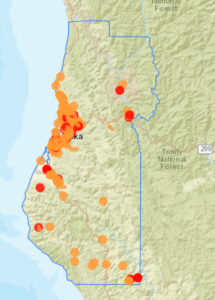 ---
California's Electric Vehicle Incentive Programs Struggling
Underfunded programs are not keeping pace with increasing car prices, putting zero-emission vehicles financially out of reach for a growing number of people.
Down to the Wire for "Kill Bike-Share Bill"
AB 371, which would apply onerous insurance requirements for bike-share systems, is coming up for a key vote in the state legislature.
What Happens When a Company Loses Contact with Its Robot Cars?
San Francisco is finding out.
---
The Collector is CRTP's weekly transportation news roundup, published every Friday. We focus on North Coast news, but we also include relevant state, national and international transportation news – plus other items that we just find kind of interesting! To submit items for consideration, email colin@transportationpriorities.org.