The Collector



July 29, 2022
---
Humboldt County Planning Commission Hears from Public on Fish Farm
CRTP and others expressed gratitude for the commitments to renewable electricity and employee commute programs that Nordic Aquafarms has already made, but also asked for additional mitigation for other major impacts – such as the impact of adding 190 new truck trips a week to local highways that are already experiencing a safety crisis. Check out the comments we submitted with a coalition of other groups here. The Commission did not make any decisions, instead continuing the hearing to next Thursday when public comment wrapped up…almost four hours into the meeting.
Arcata Planning Commission to Keep Discussing Gateway Design Principles
There was a lot of discussion this week, but no resolution…so they'll keep discussing the same topic at a special meeting next week. We know it's no fun to attend these interminable meetings, but the Commissioners really need to keep hearing from people like you about the importance of walkable and bikeable design!
And Another Gateway Meeting, Too
In case you were worried there weren't enough public meetings about the Gateway plan, the Arcata Transportation Safety Committee will also continue its discussion of the plan next week. The main topic of conversation will likely be the proposed single-lane K and L Street couplet. CRTP supports this proposal, along with any other proposal for the corridor that would do all of the following: (1) Narrow K Street and add significant and meaningful bike and pedestrian safety features; (2) Maintain or improve the existing trail; and (3) Not add substantial vehicular capacity.
CRTP Featured on "Community Voices"
Executive Director Colin Fiske talks about the Greater Eureka Area Traffic Safety Task Force on KEET TV.
Agencies Continue to Explore Extending Municipal Water to Trinidad Rancheria
The Rancheria wants to secure water for its new hotel development. But extending municipal water lines to exurban areas can have sprawl-inducing effects. The McKinleyville Community Services District will consider an agreement to investigate the possible water line extension at a meeting next Wednesday.
Millions of Dollars for Local Airports
Massive subsidies never fail to prop up the most climate-destructive modes of transportation.
Walkable Senior Housing Under Construction in Eureka
Advocates point out, however, that the sidewalks and intersections in the area aren't exactly conducive to walking or rolling for people who have various mobility challenges.
---
Street Story: The Public Platform for Street Safety
Local residents have made 945 reports so far. Add a report any time you see a hazardous spot or experience a collision or near miss. La versión en español está disponible aquí.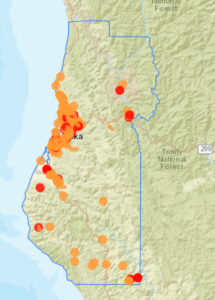 ---
Humboldt County Working on New Economic Development Plan
Will proven strategies like robust public transportation and walkable communities make an appearance?
Annual Celebration of Cars in Fortuna
We're still waiting to see a Ferndale PedExpo or a Blue Lake Bike Show or a Scotia Scooter Spectacular.
The Most Dangerous Road in the Country
Does US-19 in Florida remind you of any local roads on the North Coast? Both US-19 and Eureka's Broadway are typical examples of the urban/suburban "stroad." Check out the article for more details.
---
The Collector is CRTP's weekly transportation news roundup, published every Friday. We focus on North Coast news, but we also include relevant state, national and international transportation news – plus other items that we just find kind of interesting! To submit items for consideration, email colin@transportationpriorities.org.