The Collector



August 19, 2022
---
Big Decisions Coming Up for Gateway Plan
At a study session next Tuesday, the Arcata City Council and Planning Commission are likely to make decisions about some of the most contentious issues, including building height, the proposed L/K Street couplet, and the ongoing review process for the plan. CRTP's priorities include preserving density for housing and walkability – meaning taller buildings must be allowed – along with improving bike and pedestrian safety on K Street, and ensuring that plan adoption isn't unnecessarily delayed. People who bike, walk, take the bus, or need a place to live can't afford to wait for this plan to be implemented – and neither can the climate! Email the City Council and attend the meeting to make your voice heard.
Bike Share System Expanding in Arcata!
At its meeting this week, the Arcata City Council approved adding 4 new stations and 20 new bikes to the existing bike share system. The new stations, funded through the Sorrel Place and 30th Street Commons projects, will be at those project locations and near well-used bus stops. (Meanwhile, a bill which would threaten the financial viability of all bike-share systems is still moving through the legislature.)
Harris Street Partially Closed Due to Risk to Firefighters
After a near-miss incident, the City of Eureka closed Harris Street to vehicles in the area where fire crews have been staging to fight wildfires in the region. We're happy the city took action before someone was actually hit by a driver. We also think firefighters aren't the only people who deserve protection from speeding drivers, and we hope the city expands this policy to temporarily close other streets where near-misses, hazards, and crashes occur.
Workshop Shows Support for Denser Development
This week's workshop on form-based codes and the Arcata Gateway Plan was the best-attended public meeting yet on the plan, with over 50 people tuning in via Zoom. Live polling during the workshop showed broad support for taller buildings – perhaps a surprise to those who have only been listening to the comments at other recent meetings – and a focus on walkability and transit.
Nordic Aquafarms Environmental Approval Appealed
CRTP is not part of the appeal, but remains concerned about issues including the safety and emissions impacts of a lot of new trucks on local roadways.
---
Hey you! Yes, you.
Have you experienced a near-miss, collision, or hazardous location on a local street or highway? Report it today on Street Story, so CRTP and others (including the government agencies in charge of our streets) can help identify the spots most in need of safety improvements. La versión en español está disponible aquí.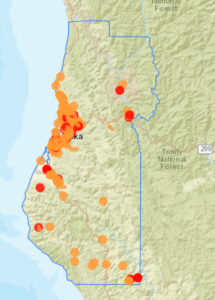 ---
What Do the Federal Climate Bill's EV Incentives Mean for the North Coast?
Representative Huffman and Redwood Coast Energy Authority Executive Director Matthew Marshall give their thoughts in this Times-Standard article. Meanwhile, experts point out that the best way to fight both inflation and climate change is to get people out of the trap of car ownership to begin with.
A Whole Bunch of Transportation Bills Are Nearing the Finish Line in Sacramento
Bills likely to make it to the governor's desk would decriminalize jaywalking, legalize the rolling "safety stop" for adults on bikes, require drivers to change lanes when passing bikes, provide further support for the Great Redwood Trail, align funding with climate targets, require traffic signals to give a pedestrian head-start, give a tax credit to each member of a household without their own car, and a lot more. If Newsom signs them all, expect to see pretty significant changes on our streets and roads in the years to come.
---
The Collector is CRTP's weekly transportation news roundup, published every Friday. We focus on North Coast news, but we also include relevant state, national and international transportation news – plus other items that we just find kind of interesting! To submit items for consideration, email colin@transportationpriorities.org.