The Collector



October 22, 2021
---
You Can Still Sign the Broadway Petition for the Next Few Weeks
More than 470 of our friends and neighbors have signed the petition for a safer Broadway. Read more about it in this recent Times-Standard article. We'll be delivering the petition to Caltrans in a few weeks, but in the meantime you can still sign it. If you've already signed, thank you – and please share the link with your friends and family so they can sign too.
Caltrans Workshop Next Week on Sea Level Rise
The agency is considering how to adapt the Eureka-Arcata Highway 101 corridor to rising oceans over the coming decades. We want to see any new infrastructure prioritize walking, biking and transit over cars and trucks – after all, we don't want to cause more climate chaos while we're adapting to its effects. Register here to attend next Wednesday's workshop and provide your input.
County Taking More Comments on Eureka Area Subdivision
Humboldt County planners had to re-do the "North McKay Ranch" subdivision Environmental Impact Report to update its transportation analysis to current standards. Unfortunately, the analysis is still pretty bad. As it stands, the project is a car-oriented suburban subdivision with no meaningful provisions for walking, biking or buses – but the county somehow concludes that it won't result in more driving. You can weigh in on that conclusion by submitting comments to the County today.
When People Live in Cars, Parking is Housing
CRTP is generally not a fan of free parking, but we don't think parking policy should be used to criminalize people who have nowhere else to go. Following its recent vote to target houseless people with new parking restrictions in an industrial area, the Eureka City Council got an earful this week from people upset about that decision. CRTP joined our friends and allies in calling for a safe parking program for houseless people. You can watch video of the meeting here.
Provide Your Input on Unmet Transit Needs
Every year, the Humboldt County Association of Governments asks the public to identify transit needs that aren't currently being met. That process is happening now. You can attend one of the many meetings, or provide your input online.
---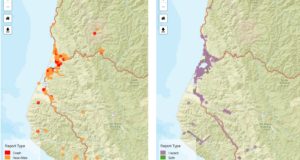 Don't Forget to Make Your Reports on Street Story
Report the hazards, collisions and near-misses you've experienced on local streets, so we can use the data to make things safer in the future. Local residents have reported 833 reports (and counting) on Street Story. La versión en español está disponible aquí. 
---
Eureka City Council Discusses How to Take on the Coal Train Threat
CRTP is committed to working with our allies to end the threat of coal export from Humboldt Bay and preserve the future of the Great Redwood Trail. Unfortunately, federal railroad law won't make that easy, and we need to learn from the experiences of other communities that have faced the same threat.
Read the Latest from the Humboldt Bay Bicycle Commuters Association
One important issue highlighted in their most recent newsletter is the need to design new "bulbouts" and other pedestrian safety features in a way that safely accommodates bicycles, too.
Huffman Supports Climate Infrastructure
The North Coast Congressman has made it pretty clear where he stands on climate programs in the budget reconciliation bill. We'll take this opportunity to remind everyone that transportation is the country's biggest source of climate-harming emissions, and the kind of infrastructure we build has a big effect on those emissions.
How Seriously Does the State Transportation Commission Take the Climate Crisis?
Not very seriously, apparently, despite recently adopted plans and public statements to the contrary.
Yes, We Can Make Our Streets Safer
The City of Fremont is showing that when officials take safety seriously, they really can reduce serious collisions and fatalities.
---
The Collector is CRTP's weekly transportation news roundup, published every Friday. We focus on North Coast news, but we also include relevant state, national and international transportation news – plus other items that we just find kind of interesting! To submit items for consideration, email colin@transportationpriorities.org.