The Collector



October 29, 2021
---
Humboldt's Draft Regional Transportation Plan Now Open for Comment
You can still take the survey until Sunday, and comments on the draft plan itself will be accepted until November 21st. Stay tuned for more on this critical plan, which will shape future transportation investments in the county for years to come.
Vote for CRTP!
Members of the North Coast Co-op choose which non-profits get to participate in their Seeds for Change Round-Up program, and CRTP is in the running for next year. Please support us!
Do You Have Photos of Bad Spots for Walking, Biking, or Rolling in McKinleyville?
The County wants to see them! (Léelo en español aquí.)
Secure Bike Parking on HSU's Campus?
There are two opportunities next week to hear about a student-led initiative to address bike storage issues on campus.
Committee Hears Update on McKinleyville Town Center
Will McKinleyville finally get a walkable, transit-friendly town center? Plans are beginning to take shape after decades of work.
Caltrans Considers Options for Protecting Highway 101 Corridor
Rising sea levels will regularly flood the highway (and the new Bay Trail) in the foreseeable future if nothing is done.
RCEA Gets Grant for Zero-Emission Truck and Bus Planning
The Redwood Coast Energy Authority Board accepted a state grant this week to develop a charging and fueling plan for medium- and heavy-duty zero emission vehicles in Humboldt County.
Eureka City Council to Tackle Vacancy Issues
Dense buildings don't do much to increase walkability if they're empty.
---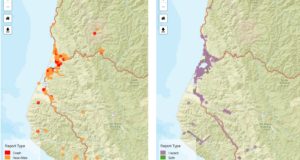 Don't Forget to Make Your Reports on Street Story
Report the hazards, collisions and near-misses you've experienced on local streets, so we can use the data to make things safer in the future. Local residents have reported 839 reports (and counting) on Street Story. La versión en español está disponible aquí. 
---
How Should We Incorporate Climate, Safety & Equity Goals into Decision-Making?
Next Thursday, the Technical Advisory Committee of the Humboldt County Association of Governments will take on the topic of ensuring that the projects they plan, approve and fund are actually helping meet our most important goals.
Supervisors Talk Unmet Transit Needs
The discussion raised more questions than answers.
State Housing, Transportation and Pollution Agencies to Hold Joint Meeting
Discussion topics include coordination of efforts to reducing driving, increase housing, and address historic inequities in both housing and transportation.
Biking While Black: The Intersection of Infrastructure and Policing
Black and brown communities across the country typically have less bike infrastructure and much more aggressive law enforcement.
What Does Justice Look Like When a Driver Hits a Bicyclist?
A prominent case in Colorado demonstrates the personal stakes. We should note that it's rare that a driver is held accountable at all for this kind of incident.
---
The Collector is CRTP's weekly transportation news roundup, published every Friday. We focus on North Coast news, but we also include relevant state, national and international transportation news – plus other items that we just find kind of interesting! To submit items for consideration, email colin@transportationpriorities.org.