The Collector



November 5, 2021
---
Vote for CRTP!
If you're a North Coast Co-op member, vote now for CRTP to be a recipient of next year's Seeds for Change fundraising program. We need your support!
This Is a Crisis. Act Like It.
At a committee meeting on Thursday, officials in charge of building and maintaining streets and roads in Humboldt County stridently attacked a proposal supported by CRTP to require their projects to align with targets for improving safety and reducing climate-harming emissions. Instead, they said, decisions about their projects should be left up to them, and they should focus on repairing existing roads for cars. CRTP pointed out that the unincorporated county alone has an insurmountable road maintenance backlog of half a billion dollars, and if they wait to invest in active transportation and transit until they've fixed all their roads, it'll just never happen. We found the reactions of these officials extremely disturbing, especially coming at a time when the world's governments are struggling to address the existential threat of climate change, and people are regularly being injured and killed simply for trying to walk or bike on our public thoroughfares. Most of our local leaders know that we are facing both a climate crisis and a safety crisis. It's time they start acting like it.
McKinleyville Town Center Draft Regulations Published
At long last, there is an actual draft plan for future development in the Town Center. A public meeting to discuss the plan is scheduled for Saturday, November 13th. Stay tuned for CRTP's hot takes on the draft plans, rules and regulations.
Driver Sentenced in McKinleyville Vehicular Attack Case
It was a rare case of a driver who endangered protesters actually being charged, and the judge gave the lightest possible sentence. Nationwide, vehicle attacks on protesters have become widespread, and justice is rarely served.
Caltrans Seeking Scoping Comments on Last Chance Grade
Is there something you think Caltrans needs to consider in its environmental assessment of the Last Chance Grade project? Like, for example, examining the impacts on bicyclists at this critical spot in the Pacific Coast Bike Route? Now's the time to tell them.
Fish Farm Developers to Hold Public Meeting Next Week
Nordic Aquafarms will hold a virtual town hall next Wednesday at 6 pm. The project is expected to generate a lot of car and truck trips, and CRTP has been advocating for ways to reduce those impacts. For more information on the town hall, email Nordic's community liaison Lynette Mullen.
---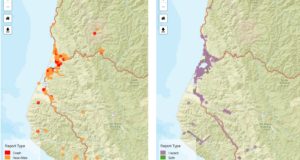 Don't Forget to Make Your Reports on Street Story
Report the hazards, collisions and near-misses you've experienced on local streets, so we can use the data to make things safer in the future. Local residents have reported 840 reports (and counting) on Street Story. La versión en español está disponible aquí. 
---
Why Do We Accept the Carnage Caused by Cars as "Normal"?
It's long past time that we change the way we think about traffic violence.
Big Oil Dodges Accountability for Decades of Climate Denial
Nothing to see here, folks, just keep pumping that gas.
So Where Will We Get All the Batteries?
Electrification of cars and trucks is critical to fight climate change, but that strategy relies on massive amounts of lithium. And lithium mining often can extract a very high toll from local communities.
---
The Collector is CRTP's weekly transportation news roundup, published every Friday. We focus on North Coast news, but we also include relevant state, national and international transportation news – plus other items that we just find kind of interesting! To submit items for consideration, email colin@transportationpriorities.org.