The Collector



October 1, 2021
---
More Revelations About Coal Train Threat
A leaked memo seems to confirm the involvement of both the coal industry and the Wiyot Tribe in the attempt to take over the North Coast Railroad Authority rail line, but we're glad to hear that the Wiyot say they do not support coal trains. Meanwhile, Governor Newsom just signed SB 69, the bill which mandates the final transition from the NCRA to the Great Redwood Trail Agency, and Representative Huffman sent a letter to US Secretary of Transportation Pete Buttigieg asking him not to allow any federal funding to support the coal train effort. CRTP continues to work with our allies to stop the coal train threat and save the vision of the Great Redwood Trail.
The More People, the Better
More than 270 people have signed the petition for a safer Broadway. Help us spread the word and get more signers by sharing our new video.
Humboldt Bay Area Housing Workshop Next Tuesday
The County wants to know what you think about housing. Let them know it should be built in walkable, transit-accessible areas, and should be affordable to local residents.
Three Climate Crisis Events Next Week
Local climate advocate and retired physician Wendy Ring will give a talk co-sponsored by CRTP on climate and public health on Monday at 7 pm (link above). North Coast State Senator Mike McGuire will hold a Climate Crisis Town Hall on Wednesday at 6:30 pm. And national climate leader Bill McKibben will give a talk on Thursday sponsored by the Schatz Energy Research Center at Humboldt State. (In case you need a reminder, transportation is by far the biggest source of climate-harming emissions on the North Coast, and in the country as a whole.)
Parking Restrictions Shouldn't Be Used to Persecute Houseless People
That's what two members of the Eureka Transportation Safety Commission told city staff (and we agree). As a result, the Commission failed to recommend approval of proposed parking restrictions in an industrial area off Broadway. But despite that controversy, the proposed restrictions ended up as Item B.4 on next week's City Council Consent Calendar, which is meant to allow quick approval of uncontroversial items with no discussion. We think that's unacceptable. The Council should remove the item from the Consent Calendar, discuss it, and vote against it.
---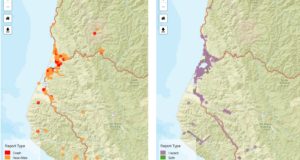 You Know the Local Streets in Your Area
Report the hazards, collisions and near-misses you've experienced on them, so we can use the data to make things safer in the future. Local residents have reported 809 reports (and counting) on Street Story. La versión en español está disponible aquí. 
---
New Bike Map & App, Full Regional Transportation Plan Coming Soon
Those and other exciting topics are on next week's agenda for the Humboldt County Association of Governments Technical Advisory Committee. Stay tuned for more details from CRTP.
Major Climate Initiative from Humboldt Area Foundation
So far, though, the project doesn't seem to be focused on transportation issues.
Conservatives of Both Parties Continue to Undermine Infrastructure Package
Because, you know, why would we spend money to address the climate crisis when we can all agree that cars and fossil fuels are the future?
Preparing for Automated Vehicles
These strategies recommended by academic experts sound a lot like what CRTP recommended in our landmark report last year.
---
The Collector is CRTP's weekly transportation news roundup, published every Friday. We focus on North Coast news, but we also include relevant state, national and international transportation news – plus other items that we just find kind of interesting! To submit items for consideration, email colin@transportationpriorities.org.