The Collector



October 8, 2021
---
Humboldt Supervisors Approve Anti-Coal Resolution
Humboldt County joins a growing number of North Coast cities and counties opposing the re-opening of the regional train line to ship coal out of Humboldt Bay. Thanks to all who sent comments to the Supervisors in support of the resolution! The Supervisors also discussed what we hope is a minor snag in the development of the Bay Trail South having to do with the Murray Field airport land use plan. We'll keep you updated if this becomes an obstacle to completing the trail between Arcata and Eureka.
Huffman & Thompson Send Letter to Secretary Buttigieg
The two North Coast Congressmen asked that the US Department of Transportation refuse to fund any coal train project in our region.
It's Not Too Late to Sign
More than 280 people have signed the petition for a safer Broadway. Help us spread the word and get more signers by sharing this video.
A New Opportunity to Comment on Richardson Grove Project
A state court required Caltrans to accept more public comment on changes to environmental documents for the highway expansion project.
Humboldt County Planning Commission Approves Scaled-Back Manila Trail
The long-planned multi-use trail along Highway 255 will unfortunately only be about half as long as was originally planned, due to concerns from some neighbors. Ironically, the concerns were mostly about exposure to more highway noise from tree removal, not about the trail itself (which will generate little if any noise).
Arcata Amends Legislative Platform
At the urging of local advocacy group RCCER, the City Council added policies to support low-carbon transportation and infill development, and removed policies opposing any state land-use mandates. RCCER pointed out that state mandates are often necessary to ensure equitable transportation and housing outcomes. At the same meeting, the Council approved a resolution opposing coal trains.
Westhaven Residents Oppose Road Widening
Widening of Westhaven Drive is proposed as part of the larger interchange project being pursued by the Trinidad Rancheria. CRTP recognizes the legitimate interest of the Rancheria in connecting their lands on either side of Highway 101, but we have significant concerns about many aspects of the proposed interchange.
Arcata Planning Commission to Discuss Old Arcata Road Project
The long-planned project will add much-needed bike and pedestrian infrastructure. It will also add a roundabout at Jacoby Creek Road, which CRTP is concerned will not encourage walking and biking in the area.
Fortuna Gets E-Scooters
The Friendly City is the first in our region to host an e-scooter sharing system.
Charlie Moon Way
Grappling with a racist past, the Eureka Planning Commission will consider next week whether to rename an alley in honor of Charlie Moon. Moon was one of the few people of Chinese descent who remained in Humboldt County after a white mob largely drove out the community and destroyed Eureka's Chinatown in the 1880s.
---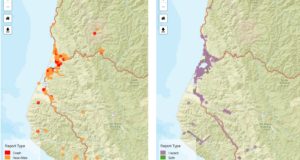 You Know the Local Streets in Your Area
Report the hazards, collisions and near-misses you've experienced on them, so we can use the data to make things safer in the future. Local residents have reported 809 reports (and counting) on Street Story. La versión en español está disponible aquí. 
---
Bikeshare Programs Help Reduce Emissions
Like all transportation modes, they require some government subsidy – but substantially less subsidy than, say, driving.
Low-Density Zoning Hurts Public Health
Disadvantaged communities are most heavily impacted.
Diesel Truck Pollution Disproportionately Impacts Communities of Color
A new study confirms previous findings for a range of cities across the US.
Berlin May Ban Cars Downtown
It's part of a growing worldwide movement for car-free city centers.
---
The Collector is CRTP's weekly transportation news roundup, published every Friday. We focus on North Coast news, but we also include relevant state, national and international transportation news – plus other items that we just find kind of interesting! To submit items for consideration, email colin@transportationpriorities.org.