The Collector



September 24, 2021
---
Humboldt County to Hold Housing "Listening Sessions"
We need more housing. And it needs to be built in existing communities near jobs and services, where people don't have to get in an expensive, dangerous, climate-destroying vehicle to get anywhere.
Tell Your Friends About the Petition for a Safer Broadway
Decisions are being made about the future of Broadway right now. Tell everyone you know to join the nearly 200 people who have already signed the petition asking for immediate safety improvements for people walking, biking and rolling there.
McGuire Introduces Bill to Fight Coal Trains
The bill, which would be taken up next year, would prohibit the use of state funds to revive the rail line in the Eel River Canyon or to build a coal terminal in Humboldt County. North Coast League of Women Voters chapters also came out against the coal train plan this week, as did the Ukiah City Council.
EV Charger Rebates Now Available in Humboldt
The Redwood Coast Energy Authority has added a rebate for home charging stations to its existing rebate for electric vehicles. If you have to drive a car, make it electric!
More People Are Flying In and Out of Humboldt
And even more air travel is in the works. At some point we are going to have to grapple as a community with the idea of promoting the most carbon-intensive way to travel during a global climate crisis.
Arcata Transportation Safety Committee Struggles with Vacancies
This week, the committee was scheduled to discuss the city's longstanding plans to redesign Old Arcata Road, but couldn't because it lost a quorum after members had to recuse themselves. There are now 2 new vacancies on this committee. If you live or work in Arcata, you can help keep things running smoothly by applying now to join the committee!
---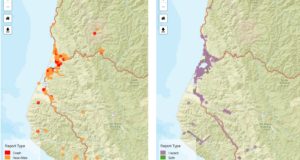 You Know the Local Streets in Your Area
Report the hazards, collisions and near-misses you've experienced on them, so we can use the data to make things safer in the future. Local residents have reported 792 reports (and counting) on Street Story. La versión en español está disponible aquí. 
---
How to Win Road Safety Improvements
Even when a bunch of loud people are against them.
More Roads, Trails and Buildings Will Flood as the Climate Heats Up
Existing flood maps don't capture the risks, and fortifications often won't work – so we'd better start planning for the long term now.
New Pandemic Work Arrangements Aren't Destroying Cities After All
But they probably are moving people around within large metro areas.
Form-Based Codes to the Rescue
Zoning codes which emphasize mixed uses and walkability result in more development and lower rents than traditional codes, according to a new analysis.
Will E-Bike Incentives Make It Into Federal Legislation?
The negotiations are intense and largely out of the public eye.
---
The Collector is CRTP's weekly transportation news roundup, published every Friday. We focus on North Coast news, but we also include relevant state, national and international transportation news – plus other items that we just find kind of interesting! To submit items for consideration, email colin@transportationpriorities.org.