The Collector



September 17, 2021
---
Citizens Show Opposition to Coal Trains, Support for Trails
In just three days, more than 650 people signed onto a letter to the Surface Transportation Board organized by CRTP and our allies supporting the railbanking process for the Great Redwood Trail and opposing the attempt to take over the rail line for coal trains. The letter was submitted earlier this week. You can still sign on to the coalition's letter asking the Harbor District to block coal facilities in their jurisdiction.
Have You Signed the Safer Broadway Petition Yet?
More than 170 people have. You don't have to live in Eureka to sign. You just have to care about the safety of people walking, biking and rolling there.
Assurances of Good Design for Bay to Zoo Trail
The Eureka Planning Commission approved environmental documents for the trail on Monday evening, but only after adding specific directions to city staff to prioritizebike and pedestrian safety on difficult sections of the trail (where it crosses busy streets and where bikes are expected to ride on the road). CRTP advocated vigorously for this outcome, and we're grateful that the Commission took our concerns seriously.
Double the Student Housing as HSU Expands
Humboldt State University has announced that it intends to build a lot more housing as anticipated enrollment increases over the next few years. Where and how that housing is built, and what university policies come along with it, will determine whether students can easily walk, bike or take the bus to campus, or if Arcata is overrun with new cars.
EPIC Vows to Keep Fighting Richardson Grove Project
The campaign to stop the highway expansion project is far from over.
---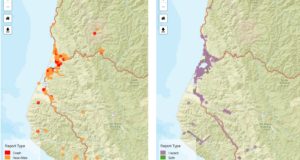 You Know the Local Streets in Your Area
Report the hazards, collisions and near-misses you've experienced on them, so we can use the data to make things safer in the future. Local residents have reported 775 reports (and counting) on Street Story. La versión en español está disponible aquí. 
---
Newsom Signs Infill Housing Bills
Local governments will now have to allow most lot owners in single-family zoning districts to subdivide and build accessory dwelling units, potentially allowing the construction of up to 6 housing units on a single-family zoned parcel. This could allow significantly more housing to be built in local North Coast communities.
How Long Should Police Hold the Cars of Unlicensed Drivers?
Studies suggest that unlicensed drivers account for a disproportionately high number of serious crashes. But they are also more likely to have low incomes and rely on their vehicles for their livelihoods, often living in communities designed for cars where walking, biking and public transit don't work very well. That makes this a tricky policy question.
Semiconductor Chip Shortage Holds Up Electric Vehicle Manufacturing
Well, really, all vehicle manufacturing. But EVs typically have more chips than gas-powered vehicles.
9-Cent Taxis Transport Residents in Rural South Korea
Where there's not enough population or infrastructure to support a bus, older low-income residents rely on subsidized taxi rides.
---
The Collector is CRTP's weekly transportation news roundup, published every Friday. We focus on North Coast news, but we also include relevant state, national and international transportation news – plus other items that we just find kind of interesting! To submit items for consideration, email colin@transportationpriorities.org.