The Collector



September 10, 2021
---
Local Officials Fighting Coal Trains
CRTP is also working with local allies to fight this horrible proposal. One of the most immediate concerns is the potential to disrupt the railbanking process required to make the Great Redwood Trail a reality. We'll have more information for you as it's available. In the meantime, we're happy to report that SB 69, Senator McGuire's bill to officially convert the North Coast Railroad Authority into the Great Redwood Trail Agency, has just passed the legislature and is on its way to the Governor's desk.
Sign the Petition for a Safer Broadway!
You don't have to live in Eureka to sign. You just have to care about the safety of people walking, biking and rolling there. Join the more than 150 people who have already signed, and help us spread the word.
Regional Transportation Plan Workshop on Monday
Attend the Zoom workshop on Monday to show your support for adopting ambitious targets to improve safety, reduce emissions, and reducing driving – and make sure the projects that are funded actually help us meet those goals.
Bay to Zoo Trail at Eureka Planning Commission – Again
Last time, the Commission voted at CRTP's urging to direct staff to come back with a project description that ensured better bicycle safety on Dolbeer Street and safer pedestrian crossings of major streets. But city staff now appear to be ignoring that direction and presenting the same documents as before. Join the virtual meeting next Monday (9/13) at 5:30 pm – if you're not at the RTP workshop – to tell the Commission to continue demanding safer designs, and to approve the documents once they get them. (You'll have to email planning@ci.eureka.ca.gov with your phone number ahead of the meeting to sign up for a comment slot.)
Humboldt Transit Authority Tests Hydrogen Bus
Current battery-electric buses don't have the range for longer regional routes such as the Redwood Transit Service from Trinidad to Scotia. So HTA is looking to meet zero-emission transit mandates by investing in hydrogen-fueled buses. From an emissions perspective, this plan is complicated by the fact that hydrogen fuel is today almost entirely derived from fossil fuels and would have to be shipped hundreds of miles to Humboldt County on diesel trucks. "Green hydrogen" is derived instead from renewable electricity and water, but is not yet commercially available. CRTP recognizes the challenges of transitioning to truly zero-emission buses in a rural context and supports HTA's efforts to work through those challenges.
Give Your Input on Redistricting in Humboldt County
Because the way political districts are drawn affects…well, everything else, including transportation. Your chances to provide input on local redistricting include a hearing next Tuesday at 11 am, and a series of community workshops happening now.
---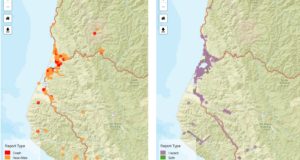 You Know the Local Streets in Your Area
Report the hazards, collisions and near-misses you've experienced on them, so we can use the data to make things safer in the future. Local residents have reported 774 reports (and counting) on Street Story. La versión en español está disponible aquí. 
---
Transportation Bills Heading to the Governor's Desk
With the session ending, there's a lot of action in the state legislature. For example, in a historic move, the legislature approved AB 1238, which decriminalizes "jaywalking." The legislature also approved AB 43, which despite a lot of watering-down in the Senate will still make it somewhat easier to lower speed limits. Both of these bills still need to be signed by the governor before going into effect.
Active Transportation and Transit Funding Held Hostage in Legislature
One issue the legislature did not resolve was its long-running squabble over high speed rail funding. And because of an earlier political compromise, that means that billions promised for transit and active transportation won't be made available, either. We're disappointed and frankly a little disgusted with this outcome.
Yes, Rural Areas Can Have Good Transportation Systems Too
We're not just "drive-through country" here!
Caltrans Officially Adopts a "Safe Systems" Approach
This is an official acknowledgement, among other things, that traffic safety isn't just about responding to deadly crashes after they happen. It's an example of the shifting approaches from Caltrans headquarters in recent years, especially since the arrival of Director Toks Omishakin. It's taking a while for changes to actually be felt on the streets, but we're glad they're happening.
---
The Collector is CRTP's weekly transportation news roundup, published every Friday. We focus on North Coast news, but we also include relevant state, national and international transportation news – plus other items that we just find kind of interesting! To submit items for consideration, email colin@transportationpriorities.org.