The Collector



September 3, 2021
---
Coal Companies Want to Stop the Great Redwood Trail…
…and make Humboldt an accomplice to toxic pollution and climate destruction in the process. CRTP joins with our local and regional allies in vowing to fight tooth and nail against this horrific plan. We'll have more information for you soon. In the meantime, please sign this petition against the coal trains organized by State Senator Mike McGuire.
Sign the Petition for a Safer Broadway!
If you live, work, shop, or play in Eureka, or care about those who do, please sign this petition today. We can't afford to wait until more people die to make Broadway a safer place for walking, biking and rolling.
A Step Forward for McKinleyville Town Center Plans
At its meeting this week, the McKinleyville Municipal Advisory Committee gave the OK to County planning staff to move ahead with drafting an ordinance for the Town Center based on the design concept created by local architect Kash Boodjeh. The devil will be in the ordinance details, but CRTP is pleased that the concept includes dense mixed-use development with bike and pedestrian-friendly streetscapes.
A Loss for Opponents of Richardson Grove Highway Expansion Project
The latest court ruling is a disappointment for those who, like CRTP, believe Caltrans should abandon its outdated and damaging highway expansion projects and focus on safe, low-carbon transportation infrastructure.
Arcata City Council Allocates $500,000 to Decarbonization Efforts
The Redwood Coalition for Climate and Environmental Responsibility (RCCER) and others had asked for $1.65 million. Based on Councilmember comments, it seems they may have ignored climate spending altogether if they hadn't received some public pressure. Most local greenhouse gas emissions come from transportation.
Eureka Preparing to Streamline Denser Development Downtown
At its meeting next week, the City Council will consider issuing a Request for Proposals for development of a "Waterfront Specific Plan" that would make it easier to build more housing and commercial development in the core of the city.
---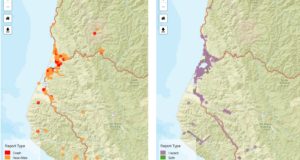 You Know the Local Streets in Your Area
Report the hazards, collisions and near-misses you've experienced on them, so we can use the data to make things safer in the future. Local residents have reported 772 reports (and counting) on Street Story. La versión en español está disponible aquí. 
---
Bike Safety Stop Law Awaits Governor's Signature!
Assuming Governor Newsom signs the bill, it will soon be legal to do what almost all people already do when riding bikes – roll slowly through a stop sign when it's safe to do so. A bunch of other bills to improve transportation systems and allow denser housing have also passed or are moving through the legislature. Unfortunately, the one bill which attempted to reform outdated parking requirements for new development will not be approved this year.
Will the US Finally Ban Lead in Aviation Fuel?
Yup, there's still lead in a lot of airplane fuel, especially the kind used by small planes at "general aviation" airports – of which there are a lot on the North Coast.
Advocates Lobby for Promised Transit Funding
$10 billion for public transit mysteriously disappeared from the Senate's bipartisan infrastructure deal.
Is "Peak Car" Already in the Rearview Mirror?
According to one expert, at least, the world is slowly moving past its car obsession. (And yes, the car-related metaphor in the headline was intentional.)
---
The Collector is CRTP's weekly transportation news roundup, published every Friday. We focus on North Coast news, but we also include relevant state, national and international transportation news – plus other items that we just find kind of interesting! To submit items for consideration, email colin@transportationpriorities.org.