The Collector



August 27, 2021
---
Memorial Tonight for People Killed by Cars
Please attend this gathering today (Friday, August 27th) at 5:30 pm at the Humboldt County Courthouse to help us remember the victims of the ongoing local road safety crisis. And please wear a mask and observe social distancing guidelines.
Let's Build Homes for People, Not Cars
Check out CRTP's latest article in the EcoNews. And while you're at it, give a listen to CRTP Executive Director Colin Fiske and other local environmental leaders discussing the implications of the latest UN climate report.
Commissioners Ask for Bike Lanes with New Subdivision
At its meeting last Thursday, the Humboldt County Planning Commission discussed the need for active transportation and traffic calming improvements in conjunction with a new subdivision in McKinleyville. They ended up approving a letter to the Board of Supervisors asking for bike lanes.
HCAOG Committee to Consider Funding for New Projects
Next week, the Technical Advisory Committee for the Humboldt County Association of Governments (phew, that's why they just call it "the TAC") will discuss what to do with $5.4 million in expected transportation funding from the state. Better non-vehicular infrastructure, anyone?
---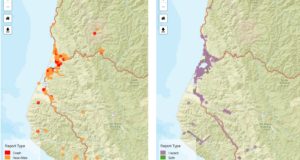 You Know the Local Streets in Your Area
Report the hazards, collisions and near-misses you've experienced on them, so we can use the data to make things safer in the future. Local residents have reported 769 reports (and counting) on Street Story. La versión en español está disponible aquí. 
---
CalBike Calls for a "No" Vote in Recall Election
The statewide bicycle association says that, while they have their differences with Governor Newsom, recalling him would be a big mistake. CRTP is a non-profit organization and cannot take a position on candidates in an election.
Action in Sacramento is Heating Up
The end of the legislative session is in sight. Here's an update from StreetsBlog on just some of the transportation and land use bills that are still moving.
Calculate the Benefits of Proposed Complete Streets Features
A new, free tool allows anyone with a little time to estimate the safety, health and economic benefits of new bike and pedestrian infrastructure.
A Slap on the Wrist for Killing Someone With His Car
In a deeply upsetting case, the Attorney General of South Dakota is paying a small fine for hitting a man with his car, claiming he hit a deer, leaving the man in a ditch all night, and then "finding" him the next morning – despite investigators concluding that the victim's head had come through the Attorney General's windshield during the collision.
New Report on State Funding for Active Transportation
We think California dramatically under-invests in non-motorized transportation. But apparently it's way worse in the rest of the states.
---
The Collector is CRTP's weekly transportation news roundup, published every Friday. We focus on North Coast news, but we also include relevant state, national and international transportation news – plus other items that we just find kind of interesting! To submit items for consideration, email colin@transportationpriorities.org.