The Collector



October 15, 2021
---
Eureka City Council to Discuss Anti-Coal Ordinance
On Tuesday, the Council will provide direction to staff who are developing an ordinance in response to the threat of coal trains on the North Coast. We applaud the city for joining Humboldt County and other local governments in taking strong steps to stop this disaster from happening.
Our Statement on Last Friday's Tragedies on Broadway
We mourn the loss of Michael Wray Robinson, and redouble our efforts to get Caltrans to make immediate safety improvements to Broadway. Listen to the latest EcoNews Report about Broadway (recorded before the latest tragedies), check out North Coast News coverage, and please join more than 400 of your friends and neighbors and sign our petition here.
HCAOG Board to Consider Draft Regional Transportation Plan
Next Thursday, the Humboldt County Association of Governments will review the draft Regional Transportation Plan and consider releasing it for public comment. If you go, tell the Board that you support the new Safe and Sustainable Transportation Targets and the focus on transportation equity, and that they need to make sure the projects included in the Plan are actually aligned with these new goals.
Huffman Joins with AOC for Infrastructure Town Hall Tonight
Come out and support better active transportation and transit infrastructure. And can we stop building new stuff for cars already? We can't even afford to maintain what we've got.
Richardson Grove Project Opponents Call on State & Federal Officials
Join our allies in asking the Biden and Newsom administrations to finally intervene and end this unnecessary and outdated highway expansion project. That money should be spent on bike and pedestrian safety projects instead!
Tour the "Gateway Area" with Arcata City Officials
Today and tomorrow, city staff will lead walking tours of the area intended for high-density, walkable infill development.
McGuire to Host "Community Roundtable on Homelessness"
Houseless people comprise a disproportionate number of people killed while walking and biking, and in many areas transportation costs add substantially to the high cost of housing.
---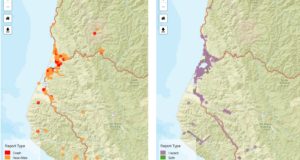 You Know the Local Streets in Your Area
Report the hazards, collisions and near-misses you've experienced on them, so we can use the data to make things safer in the future. Local residents have reported 829 reports (and counting) on Street Story. La versión en español está disponible aquí. 
---
Local Schoolkids Take Buses!
And not just school buses, as this letter to the editor of the Times-Standard reminds us.
Governor Vetoes Jaywalking Decriminalization, Bike Safety Stops
With frustratingly misguided justifications, Newsom nixed two top transportation priorities from this year's legislative session. He signed another priority bill, AB 43, which will make it slightly easier to lower speed limits in some circumstances (and no, it won't result in "speed traps").
Freight Supply Chain Issues Are Harming Public Health in Southern California
Idling container ships are adding to the already hazardous air quality around ports and freight corridors.
Berkeley Leading the Way with Non-Police Traffic Enforcement
Traffic enforcement doesn't require an officer with a gun.
---
The Collector is CRTP's weekly transportation news roundup, published every Friday. We focus on North Coast news, but we also include relevant state, national and international transportation news – plus other items that we just find kind of interesting! To submit items for consideration, email colin@transportationpriorities.org.