The Collector
November 2, 2018
---
Transportation Issues Headline State & Local Elections
Tuesday's California ballot includes Proposition 6, which would repeal the recent gas tax increase and make it much harder to fund bike, pedestrian and transit improvements in the future. CRTP doesn't take an official position on many ballot measures, but we have joined many local governments and non-profits in opposing Prop 6. In Humboldt County, voters will also weigh in on Measure O, which would continue the half-cent sales tax previously known as Measure Z – which has funded, among other things, local road repair over the last few years. And Eureka residents will vote on Measure I, another proposed sales tax for road repair. Not only that, but transportation issues have played a central role in local city council and Harbor District races, too. For more information about many of these topics, be sure to check out previous issues of The Collector. And don't forget to vote on Tuesday!
Sidewalk Obstruction of the Week
We've seen plenty of cars and trucks blocking bike lanes in The Collector, but this is the first vehicle blocking a sidewalk we've featured. Thanks to an avid reader of The Collector for submitting this one. Send your pictures of bike lane or sidewalk obstructions to colin@transportationpriorities.org.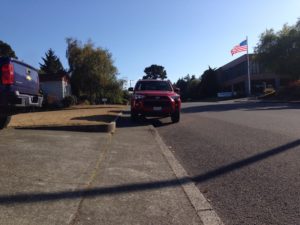 Eureka Hearing on 4th Street Widening Postponed
As we reported in last week's Collector, the City of Eureka was scheduled to hold a hearing on Monday on Caltrans' request for a Coastal Development Permit to allow changes to parts of 4th Street, including adding an extra lane. The hearing ended up being postponed – apparently due to several comments received in opposition (including from CRTP), along with the failure of Caltrans to consult with HCAOG. We'll keep you informed as this story develops.
Expensive New Stop Light for In-N-Out Development?
We're not necessarily against new stop lights on Broadway. But the fact that the City says one is needed because of all the new traffic the fast food joint will generate, and the fact that the developer refuses to pay for it – well, these things aren't exactly surprising, but they should be cause for reflection.
New Bike/Ped Counting Technology Considered at HCAOG
At the Humboldt County Association of Governments' Technical Advisory Committee meeting yesterday, the group talked about technological advancements in the field of bicycle and pedestrian traffic counting. Measuring is the first step toward understanding!
Justification for CAFE Standards Rollback Badly Flawed
The primary reason given by the Trump administration for allowing automakers to sell less fuel-efficient vehicles is that doing so will save lives. Unsurprisingly, that assertion turns out to be based on a pretty shaky analysis – including lots of basic math errors.
Advice on Creating a Local Bike Advocacy Group
OK, so maybe our weekly sidewalk/bike lane obstruction feature isn't the best organizing tool. But we still like it.
---
The Collector is CRTP's weekly transportation news roundup, published every Friday. We focus on North Coast news, but we also include relevant state, national and international transportation news – plus other items that we just find kind of interesting! To submit items for consideration, email colin@transportationpriorities.org.