The Collector
November 22, 2019
---
Mary Burke Named 2019 North Coast Responsible Transportation Champion
CRTP recognized the McKinleyville official for her leadership in bringing active transportation planning to the forefront in that historically car-dominated community. If you see her around, thank her for all of us!
New Street Tree Program Debuts in Eureka
The Times-Standard notes that "benefits include traffic calming." Meanwhile, Eureka and Caltrans continue to argue over who's responsible for such things on Broadway. We love trees and traffic-calming, but we caution planners to make sure new trees don't create unnecessary obstructions or hazards for users of the sidewalk.
Another Driver Hits A Pedestrian on Highway 101
And again, CHP and the media appear to be blaming the victim.
Arcata Accepting Comments on Housing Plan
Where and how we allow (and build) housing is the biggest factor in determining where and how we get around.
Weekly Street Story Update: Broadway
If Eureka is serious about making Broadway safer, there are good data on Street Story for them to consider. The Arcata Transportation Safety Committee talked about Street Story this week – so can Eureka! You can make your Street Story report here.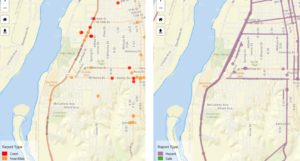 Bay Area Planning Agencies Debut New Public "Game"
"Mayor of Bayville" is an online platform intended to increase public participation in transportation and land use planning.
An Experiment in Development Without the Rules
There are lots of good reasons to regulate development. But in a small area in the middle of the Vancouver, BC, a Canadian First Nation unconstrained by density restrictions and parking requirements is able to build a lot of housing that wouldn't have been possible if they'd followed the rules. Makes ya think.
What's Missing from Candidate Climate Plans?
We're talking about it, so it must be transportation-related.
Wondering What's in the Federal Complete Streets Act of 2019?
Find out here, courtesy of Smart Growth America.
How to Transform the Suburbs
Ideas from leading thinkers on land use, transportation, housing and more.
A Debate in New York Over the Price of Parking
Could free storage of private cars in the public right-of-way – ahem, street parking – become a thing of the past in the nation's biggest city?
---
The Collector is CRTP's weekly transportation news roundup, published every Friday. We focus on North Coast news, but we also include relevant state, national and international transportation news – plus other items that we just find kind of interesting! To submit items for consideration, email colin@transportationpriorities.org.