The Collector
November 15, 2019
---
McKinleyville Town Center Meeting Heavily Attended
The meeting on Wednesday, held jointly by the County planning department and the McKinleyville Municipal Advisory Committee, asked residents what they want to see in the future town center. The number one answer? Walkability!
Creek Side Homes Project Sent to City Council
The Arcata Planning Commission (again) held a hearing on the housing project on the western edge of the city and (again) voted to move it on to the Council. You can read CRTP's comments on the project here.
Eureka Residents Want a Prettier, Safer Broadway
But project planners are looking to get "congestion relief" funds, which historically has meant bigger, uglier, more dangerous roads (and more of them). Let's hope that's not where this is headed.
Meanwhile, More Car-Oriented Restaurants Are Almost Open on That Same Roadway
Local media report breathlessly on the progress. The irony of a new development designed to bring more cars to Broadway at the same time as the city hears concerns about the road's safety for bicyclists and pedestrians seems largely unnoticed.
Watch Out for Livestock
More drivers have been hitting livestock in Humboldt lately, and law enforcement is putting the public on notice that they intend to crack down.
McKinleyville Skateboarders Get Money for a Park
Skateboarding is active transportation too!
Coast Guard Has Plans for Humboldt Bay Bar
Local marine transportation would be affected.
Weekly Street Story Update: Valley West
Every (non-highway) route in and out of the Valley West neighborhood in Arcata has been reported as hazardous on Street Story. This isn't news to those who live there, and planning is under way to improve connectivity through a portion of the planned Annie and Mary Trail. But more improvements are needed to Giuntoli Lane and other streets to make it a safe and comfortable environment for bicyclists and pedestrians. You can make your Street Story report here.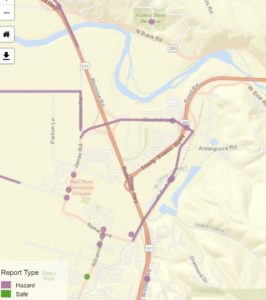 Why Does Everyone Bike in Copenhagen?
The simple answer: because they made it more convenient.
Cities Around the World Grapple With Car Problems
A good summary of recent efforts in major world cities.
Norway Takes Serious Steps Toward a Zero-Emission Port
Perhaps the North Coast should take note.
---
The Collector is CRTP's weekly transportation news roundup, published every Friday. We focus on North Coast news, but we also include relevant state, national and international transportation news – plus other items that we just find kind of interesting! To submit items for consideration, email colin@transportationpriorities.org.